Anna Foster, Ukraine: "We Did Not Plan to Die, but We No Longer Knew How to Live"
A Ukrainian writer and creative lead, Anna Foster (née Heraskina), is sharing her story on how she encountered the Russia–Ukraine war in her hometown of Kharkiv, in the northeast of Ukraine, and escaped from it.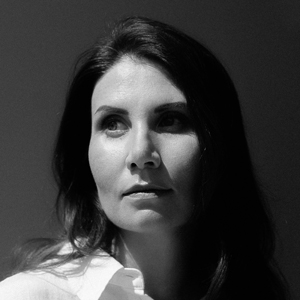 Anna Foster
Writer, creative lead at a marketing agency
On February 24 at 5 am, I was awakened by the sound of loud explosions in Kharkiv.
I was born and raised in Kharkiv and never before had I heard anything like this. I immediately realized what it was and that I needed to leave my apartment and run. My first and only thought was to be closer to my relatives, my niece Katya and her family living in another part of Kharkiv.
Like many Ukrainians, after Russia started to amass more and more military forces for "just exercises" on the border with Ukraine (again), I would ritually check my apartment before going to bed and wonder what should be in my "alarm bag". So I packed quickly, taking the most important, the most expensive, and the most beloved items: five pairs of white socks, my granddad's bible, a ceramic soap dish, the perfume that smells like green tomatoes, a book three fingers thick, my documents, cash, and a laptop. A taxi was not available, so I dragged my backpack to the first subway past the queue for the ATM, the queue for the gas station, under the continuous crash of shells.
I called my Kiwi husband Alex, based in New Zealand. In our two years together, we had spent only one month with each other, in October, due to the pandemic. But we managed to get married and apply for a partnership visa to New Zealand; and every day we would speak for hours on WhatsApp. During the winter months, Alex asked me repeatedly to move out of Ukraine to be in a safer place in case the Russian-Ukrainian conflict escalated, but I delayed moving — amusingly — because of an appointment with a dentist.
I used to say, tooth filling first, war second.
On that morning, escorted by the calming voice of my beloved Alex in my headphones, I made it to the subway. It wasn't particularly scary. I honestly don't remember my feelings at all, and I am still quite numb. The majority of people at the station were still commuting somewhere, but some men were already standing on the platform with bags. It confirmed my hunch: my country was in real danger.
I moved to my niece Katya's apartment in another part of Kharkiv on a marshrutka bus and even managed to end up arguing with a woman who refused to hand the driver my fare. As I walked to Katya's place, I heard the sound of muffled explosions, increasingly close and distinct, and I thought desperately, what if I'm about to die right here in the Sokolniki area, to die in mediocrity, without any glory?
Did I expect the war? I did not.
Was I afraid of it? I was afraid.
There were eggs, milk, half a bottle of wine, and an adjika sauce left in my refrigerator. My plants must have wilted. I hadn't taken out the garbage, so I imagine the smell in my house must be pungent. That is, if my house in Kharkiv is still standing.
In Katya's and her husband Lesha's apartment, we sealed the windows with tape, had a meal, and began to think about what to do next.
"Fuck", I said.
"It'll be over soon", Lesha said. "It's just bullshit. Really? War? They always wanted Kharkiv. I'm sure they want us to be another DNR [Donetsk People's Republic] or LNR [Luhansk People's Republic]. Fuck them. Nobody here needs to be 'liberated.' Go and liberate yourself, cunts". Lesha was furious. "[Putin's] a tae-kwon-do world champion, a big, confident man. But for the first time, as far as I can remember, he's hopelessly lost".
"But really?" Katya tried not to raise her voice so as not to scare the little girl playing cars. But what if there really is a war?
"No".
"No".
"But what if? What if?"
The basement of the building next door became our bomb shelter. Somehow, out of nowhere, we began talking about tape that would catch glass fragments. We talked about load-bearing walls. It's like we've been doing nothing in life except preparing bomb shelters for this one moment. So we packed a blanket, folding chairs, a box with buckwheat and sausages, dressed Katya's three-year-old daughter, grabbed the battery-powered police car, and went into hiding for the longest night I've ever endured.
People descended into the basement and settled in the corners. There was a hole in the middle filled with dirty water and a dead frog.
The children were loud, the pets were silent. We had a French bulldog, a pomeranian, a chihuahua, a labrador, and something else in the bag, but not a cat. We were reading the news non-stop, warmed ourselves by the heating pipes, took turns sleeping, and went to the door to catch an internet signal to send messages and download new batches of news. Between the bombings, everyone was coming out to smoke, phone, and text. And then, at the sound of the alarm, we were dashing inside again.
Troops marched on our city, a war broke out in our country.
We did not plan to die, but we no longer understood how to live.
The word of the first week was "surreal". The next morning when we returned home from the bomb shelter, it was snowing. Lots and lots of pure white snow. The sound of explosions was still insistent, but somehow serenely far away. For a minute, all darkness faded away, but then it returned.
Friends of my niece lived in a high-rise apartment in a "safer" part of Kharkiv. We went there knowing about its well-equipped underground parking garage. After a night in the basement (our bomb shelter), while trying to recline on a large swimming ring (or a pallet, a rug, a chair, or a heating pipe), the idea of spending the night in our own cars seemed luxurious. After all, there was enough gasoline. We flew through the empty city at light speed to spend the next four days with Rusya, Nastya, and their cats Chika and Zhorik.
On the first night we slept on the bathroom floor. Or rather, our toddler Sasha was sleeping inside of the bath, and the five of us just lay on the floor with smartphones and were scrolling the news about our vague future.
I started to coordinate with a group of translators, and found an excuse to stay in the apartment overnight so I could have access to a stable internet connection. I spent another night on the floor in the silence of load-bearing walls.
During these times, I worked on trial tasks for random remote jobs.
I found a translator for a letter in Japanese from the Ukrainian aquarist's union. And I discovered the good skills of a crisis manager, though I was still contending with absolute everyday uselessness.
Neither armored personnel carriers on the streets nor submachine gunners in the yard took us out of Kharkiv. Not that we planned to stay, but we didn't plan to run either. We thought of a close victory (or at least the victory of common sense) and talked about the "green corridor" for civilians to escape.
But then on March 1st, a shell hit the administration building at Svobody Square that created such an explosive wave that the building where we were staying shook. So now we felt that we needed to run away immediately. We got away at a crazy speed, drove away through the dark ruined districts of Kholodnaya Gora, Bavaria, through multiple checkpoints along a road broken by heavy machinery. We rushed to the small town of Krasnograd, 100 km west.
At that time, I didn't know that on my way I would get a visa to New Zealand, and my path would look like this: Kharkiv to Krasnograd to Gaisin to Khmelnitsky to Lviv to Kosice to Vienna to Rome to Amsterdam to Auckland. To my old apartment in Kharkiv, with my pink tulips and precious old books, it seems, I will never ever return.
So, I left Kharkiv and emigrated to Auckland to be with my husband Alex.
With one backpack, a pair of socks, a photo of my parents, an endless amount of respect for my motherland and a lot of hoping that the war would end and that we, Ukrainians, would be told one day: "Come back home".
Anna Foster, writer, creative lead at a marketing agency, INCHKIEV. She was born in in Kharkiv, Ukraine, and now lives in Auckland, New Zealand.

The illustration was commissioned by Electrolawa exclusively for The Vivid Minds