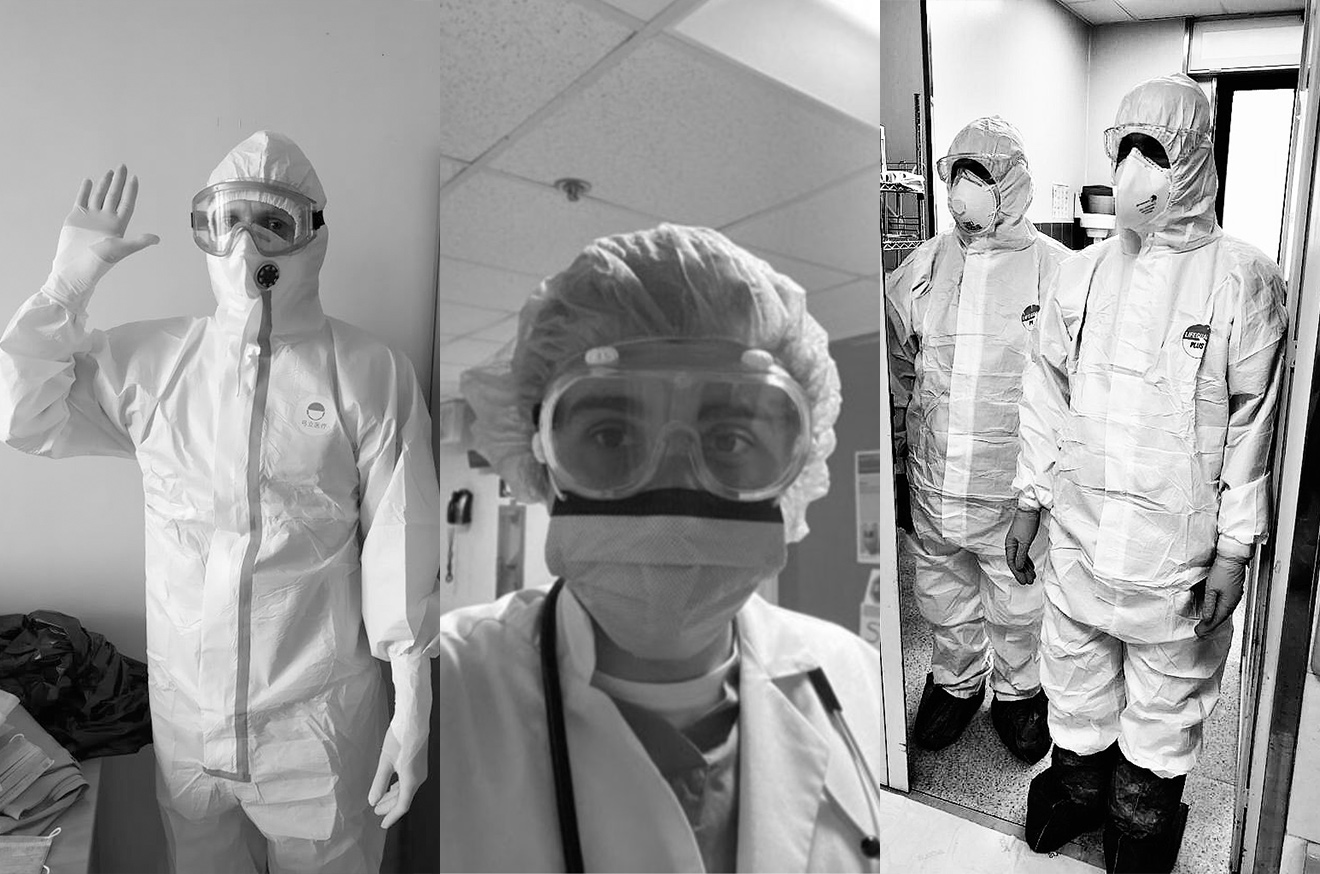 Emergency Room Doctors in the US, Italy and Russia Share Their Experiences of the Pandemic
Published on 05.10.2019
The Vivid Minds spoke with doctors on the frontlines of Covid-19, based in New York, Moscow and Milan. Because of tighter privacy rules in the healthcare sector in the US and Russia, and per doctors' request, we had to change their names in order to protect them.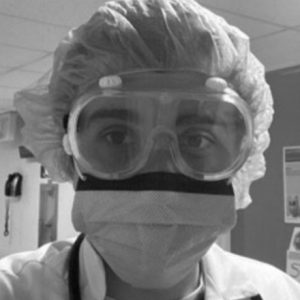 Alex I., New York
I am a 32-year-old doctor, currently practicing in the intensive therapy unit at a hospital in New York City.
On March 7, a colleague of mine had just finished receiving a report from an emergency room physician and was about to admit the first patient with COVID-19. He made orders for appropriate isolation, and was soon using all the PPE [personal protective equipment, i.e., N-95, face shield, and full-body gown]. This patient was in the emergency room for many hours without being subject to any isolation measures.
At that time, there was a strong misconception among health care officials about community spread. They believed that only those who traveled to "hot spots" were at risk. Eventually, it became clear that the coronavirus had spread.
Looking back, it is likely that it had been spreading unchecked in NYC since early February. However, since no one was tested, we had no idea what was really going on. Our mantra, "If you don't take a temperature, you can't find a fever," taken from the 1978 satirical novel, The House of God, adequately summed up the situation we found ourselves in.
A week later, on March 14, after a 14-hour shift in the hospital, I had a sore throat, but I didn't pay attention to it. On March 16, I felt worse, noticing muscle pain and shortness of breath. This was odd, considering that I live on the 12th floor and always take the steps without any problem. However, I was now noticing dyspnea on exertion [a sensation of breathlessness]. That convinced me to wear a mask at all times. Later in the day, I noticed the onset of dry cough, so I decided to take the coronavirus test. I was lucky enough to get tested the very same day. After the test, I went straight home. The next day, I was notified that I had tested positive. Patients with mild illness do not require admission to the hospital, so I quarantined at home. When I first heard my diagnosis, I called my parents, who live in Moscow. I used this opportunity to explain to them the importance of self-isolation as the epidemic was gaining momentum.
Interestingly, prior to March 16, I had not been taking care of any patients with confirmed COVID-19. Therefore, there are two ways in which I could have gotten it: through someone in the hospital (a healthcare worker or patient) who was carrying the virus but was not suspected, or through community spread (like walking in the park, going to bars or restaurants, or going grocery shopping).
I quarantined for eight days, and during the last three, all the symptoms went away, so on March 25 I returned to the hospital. The atmosphere had shifted from fairly relaxed to warlike. All outpatient procedures had been canceled, and physician assistants and nurses from other departments were transferred to medicine service or the emergency room. In the last week of March, we faced a shortage of PPE (mostly notably N95, followed by face shields and whole-body gowns), but New Yorkers were helping us out: they donated those supplies and supported restaurant-sponsored fundraisers for more PPE.
Everything seemed surreal. I could never have imagined that while living in the US and working in a large nationally-renowned healthcare system, I would have to save the N95, sterilize it for 30 minutes by heating to 158°F, and use it again.
Fortunately, those days are over. Thanks to donors and the hospital administration, we now have all the medical supplies we need. Coronavirus tests have also significantly improved: in the beginning of March, test results from our hospital were ready in seventy-two hours; now it takes eight to twelve hours.
We are so grateful for all displays of support, including the flash mobs and ovations. It's so encouraging to see people clapping and whooping for us, which they do every day at 7pm. It truly helps to lift the mood.
As for ethical issues, I don't know anyone who has refused to work with COVID-infected patients.
From early March to mid-April, more than 440 people died in our hospital. This is approximately the same number of fatalities that we saw in a 10-month period in 2019. I can't find the words to describe this.
There is no proven treatment for the coronavirus, although data from a recent study in JAMA shows that we are doing our best to improve our patients' chances of recovery. Unfortunately, COVID-19 not only affects the lungs; we are seeing high rates of renal failure requiring CVVHD [continuous veno-venous hemodialysis]. In addition, large numbers of patients are affected by hypercoagulability [excessive blood clotting] that can affect any organ in the body (causing heart attacks, strokes, etc). As you can imagine, these things can further complicate already complex health management.
It is clear that NYC passed the peak of hospital admission somewhere between April 8 and April 10. Since that time, we have seen a continuous decline in the number of admissions. I hope that this was the only peak and that we won't see a second wave of infections after stay-at-home orders are lifted and businesses are reopened. Unfortunately, the recent repeat closure of Harbin, China and a strict quarantine in Singapore suggest otherwise.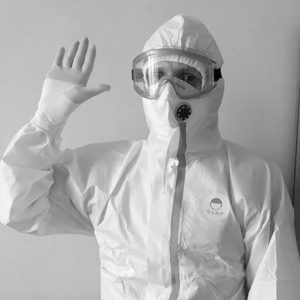 Sergey K., Moscow
As of May 7, there are over 170,000 confirmed cases of coronavirus and 1,625 deaths, according to official statistics in Russia.
I'm an anesthesiologist-resuscitator working in one of Moscow's hospitals. On April 6, we were abruptly converted into an infectious disease center. Since April 11, I haven't gone beyond the walls of the institution. For the first two weeks, all staff worked throughout the week, alternating between 6-hour shifts and 12-hour rest periods. That's how it ran every day. It's become easier since then.
Still, doctors and nurses are exhausted. Everyone's trying to cheer themselves up in any way we can, but you can see they're at their limit. A week after the outbreak, I called my family and said, "Look, let's stop calling each other, it's so hard."
There are many intensive care patients with serious complications, and many are dying. We try to save our patients by all possible means, but in the end nothing helps.
Sometimes, this leads to sheer apathy, even though I feel like a pretty strong and stable person.
When we enter the Red Zone [COVID-19 confirmed patient wards], we put on special suits. There's a certain protocol for putting them on properly, but we weren't adequately trained. The day before the hospital was converted, everyone was pressed into a single room where we had a short instruction drill, and that was all. Eventually, I watched YouTube videos to figure it out.
We received 250 patients in the first two days, and our hospital requisitioned 370 beds. For one whole day, we had a line of ambulances waiting for entry. Of course, it takes some time to hospitalize a patient. The first week was tough, especially in our ICU, where artificial lung ventilation (IVF) machines were scarce. Three weeks later, everything has somehow stabilized. We've adapted and learned how to save our strength for the most important circumstances. We've recently taken four patients off of ventilators, and they've started breathing on their own. We've also gained more hospital beds, but unfortunately, only because some of our first patients have died.
Statistics have shown that the main risk factors for severe illness are obesity, diabetes mellitus, hypertension, cancer, and chronic lung disease. Most of our patients with complications have one of these pre-existing conditions. Most are over the age of fifty.
Sometimes we're faced with a moral dilemma. We might have an elderly person with stage IV cancer who occupies one of our beds, while a younger patient infected with COVID-19 has no bed but has a stronger chance of surviving. What's to be done?
I think that our government's statistics are either totally inaccurate or a complete lie. They understate the number of deaths. For one, our detection rate is much lower than the US's. In Europe, where the healthcare system is much better organized than ours, the mortality rate is in the tens of thousands. Meanwhile, we have 1,000 deaths per 100,000 cases. Does that make sense?
I think we can safely multiply our numbers by five. Moscow might still be holding on, but regional cities and towns… it's hard to even think about. That's where the crash will happen, I think. The provinces are less prepared. Before the pandemic really hit, television news reporters told people: it's all bullshit, this is ordinary ARDS [acute respiratory distress], the mortality rate is no higher than that of pneumonia.
I have a very negative opinion of the authorities' response to the current situation. For the third week in a row, we've been in self-isolation, which is absolutely incomprehensible to me because it has no legal grounds. People are sitting home without work or money. The first day that QR-code passes were introduced, crowds began forming in the Moscow Metro because of problems with check-ups – thousands of people were standing close to each other and potentially spreading disease. And when the government announced a week-long holiday, everyone went out grilling, which undermined efforts to stop the spread.
Moreover, sick employees have taken a third of the therapeutic beds.
I feel like I'm in some kind of Soviet preventive care clinic. Doctors live in pairs or in groups of four, sharing the same room, constantly talking, smoking and drinking tea together. Many employees are infected, too. We just got thrown in here, nobody cares.
Sometimes it seems like a parallel reality. It doesn't feel like it's happening to you, but it is. Everyone writes to me, saying "you're a hero." I'm not a hero. This is my job. I've just had some really bad luck.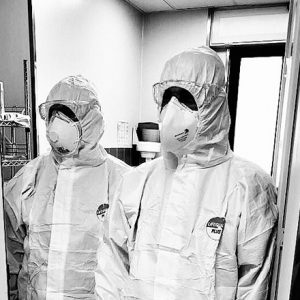 Roberto B., Milan
This interview was conducted before Italy started reopening after lockdown
On the morning of March 9, I tested for coronavirus. By the evening, the results showed I was positive.
I don't really know where I got the virus, but I suspect it was through one of two contacts. The first one is a pilot on the helicopter rescue team (I work for the Sardinian Helicopter Rescue team). He tested positive after self-isolating with a cold. The second one is a fellow resuscitator I met while working on the helicopter rescue team. He tested positive too, but like me, was asymptomatic.
I didn't suffer any symptoms; it was more like a regular cold — a cough and a sore throat. More than the illness, I was annoyed that I couldn't be at work, where my colleagues and many patients needed my help. I felt like my house was the last place I needed to be. When I took another test twenty-three days later and it was negative, I immediately started working again. I wanted to be useful and support my colleagues every way I could.
Sadly, some doctors refused to work from fear of being infected (a consequence of there being little to no protective services). But I don't think this kind of attitude is right in this situation. We cannot stop trying to save lives. We have to keep going, otherwise the crisis will truly become dire.
There's a lot of tension at the hospital; everyone wants to work, but they want to feel safe, too. Many workers are afraid to come back in contact with loved ones after working with patients, so they prefer finding some other place to live in the meantime.
Since the day the virus first emerged in Italy, the thing that irritated me most was how late the Italian government intervened, almost ignoring the terrible experience of China. During quarantine, I felt the need to check the status of the situation daily, especially given the rising number of deaths in Northern Italy. I really appreciate the dedication and the commitment of our doctors, who confronted the pandemic before the government had.
In the last few months, all around Italy, there have been numerous fundraising campaigns sponsored by various organizations and by individual citizens, all of whom have helped compensate for the deficiencies in our hospitals.
Sadly, many doctors in Italy have committed suicide. When the pandemic is over, all medical personnel will breathe a huge sigh of relief, but many will need psychological treatment for the trauma they've suffered.
The article was written by Anastasia Chernikova and Anna Kholyavko.