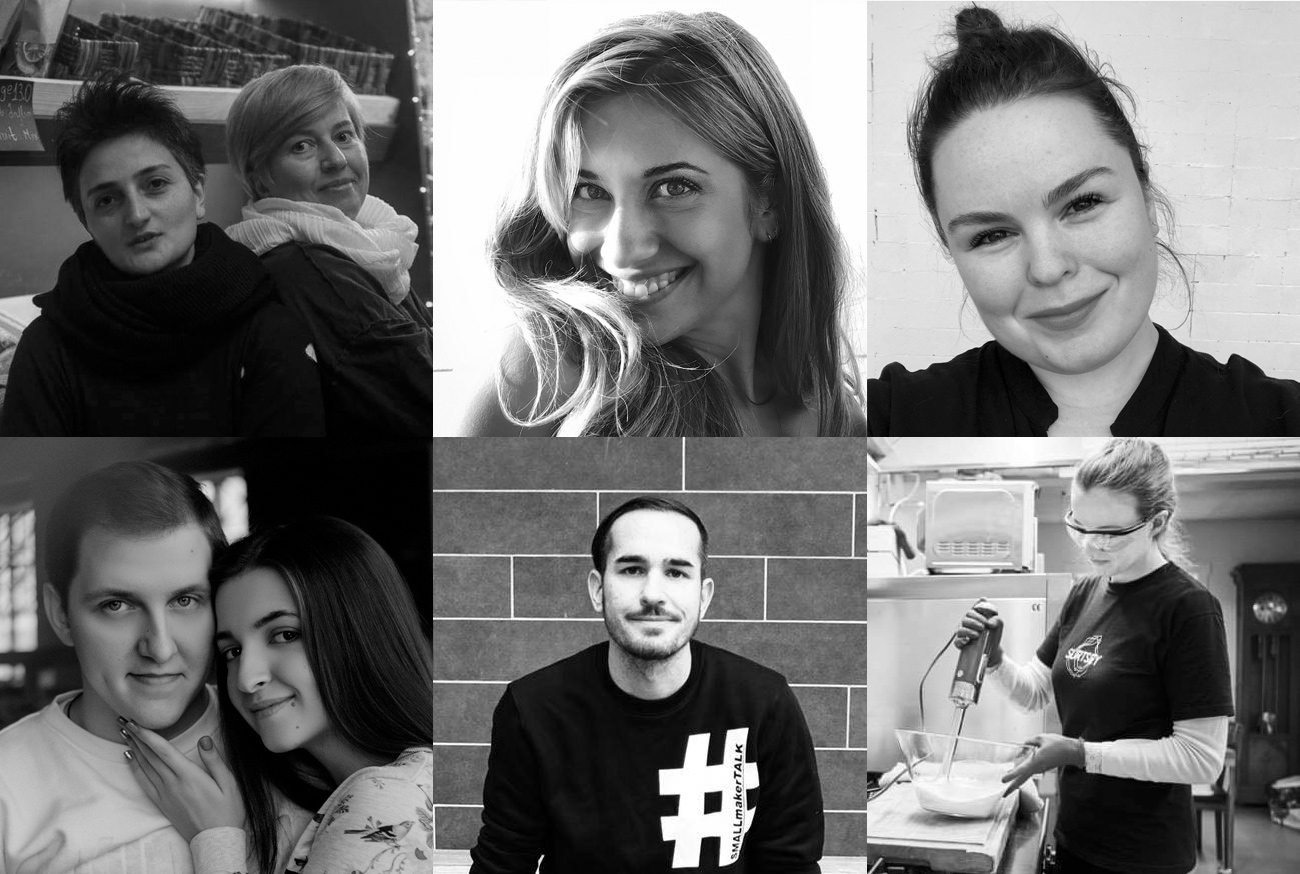 Five Creative People, Five DIY Ventures during the Pandemic
When the first Covid lockdown was ordered, many embarked on creative pursuits to avoid going crazy in their homes. Within a short span of time, a mini-DIY revolution was born. The Vivid Minds interviewed five individuals who launched their own businesses under these circumstances. As we discovered, apartments turned into workshops and dreams of quitting uninspiring office jobs to compete with major brands became the norm.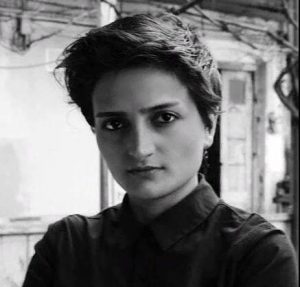 Nuki Pophadze
Georgia
Before my partner Ella and I opened our vegan bakery, Maison Du Soleil, we worked on various projects, like organizing festivals in Batumi and business breakfasts in Tbilisi. These were exciting and rewarding ventures, but they were short-lived. So we decided to start a small business.
We discussed what we could do together, what our needs and interests were, and how we could benefit the people of Tbilisi. I'm a vegetarian and Ella is a vegan; we both love vegan sourdough bread, which is hard to find in Georgia. Some people bake it at home, but there's not a single vegan bakery in the whole country! So, we found our niche: we would inspire people to adopt (or at least sample) a vegan diet. But we wouldn't do it aggressively, through stories of animal cruelty or the like. We would raise people's awareness about who vegans really are: people just like them who have chosen a healthy and conscious lifestyle. Hilariously, many people in Georgia think that vegans are poor people who grow cucumbers on windowsills!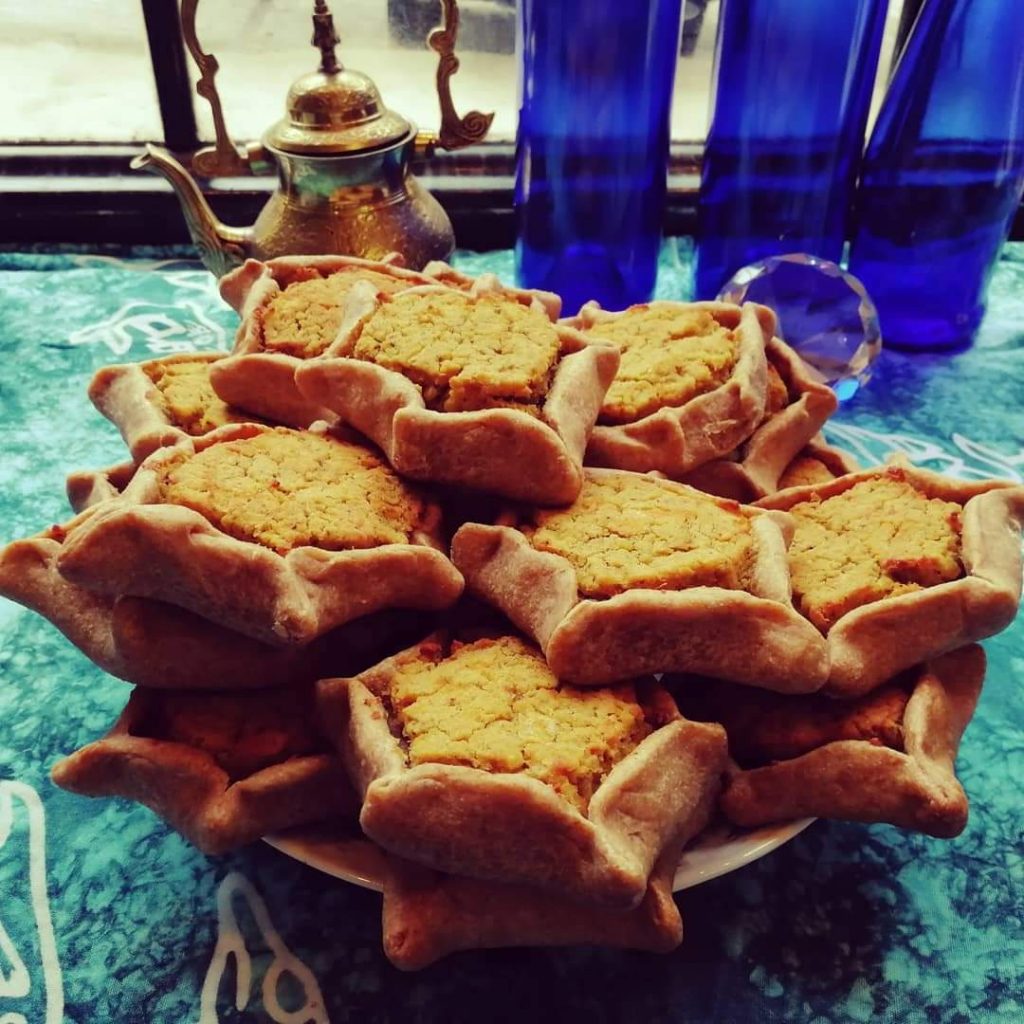 The truth is, being a vegan in Georgia is quite an expensive lifestyle. Any product with the prefix "eco" is astronomical in price. So, in order to promote ​​veganism, we had to challenge that stigma. We rented a space in the central district of Tbilisi and got to work making affordable and healthy vegan bread — no harmful additives, and only one dollar to buy. People fell in love with our bread. They tell us they won't eat any other kind!
Before we opened, we experimented with recipes for a whole month until we found one we loved. Creating a new recipe always takes a lot of imagination and innovation. For example, I recently came up with barberry bread, and Ella invented one with kumquat.
We used all our savings to open the bakery, and had support from our relatives, our first investments were around $15,000. Georgia is the kind of country where your friends and family pitch in to help you with every project. Instead of spending a lot of money on services, we relied on our friends to put our shelves together and carry boxes, and my dad transported equipment in his car.
We don't know how long the pandemic will last, but since bread is considered an essential product in Georgia, we're optimistic about staying open despite strict measures.
As they say, there comes a time when all roads will converge. For us, those roads came together in our bakery. We love to cook and bake and create vegan food. It's like a ritual for us — we gain peace of mind when we're chopping vegetables or sifting flour. When I'm in the bakery, I feel more comfortable than anywhere else. It gets tiring, for sure, but your strength returns when people stop by and thank you. It makes us really happy.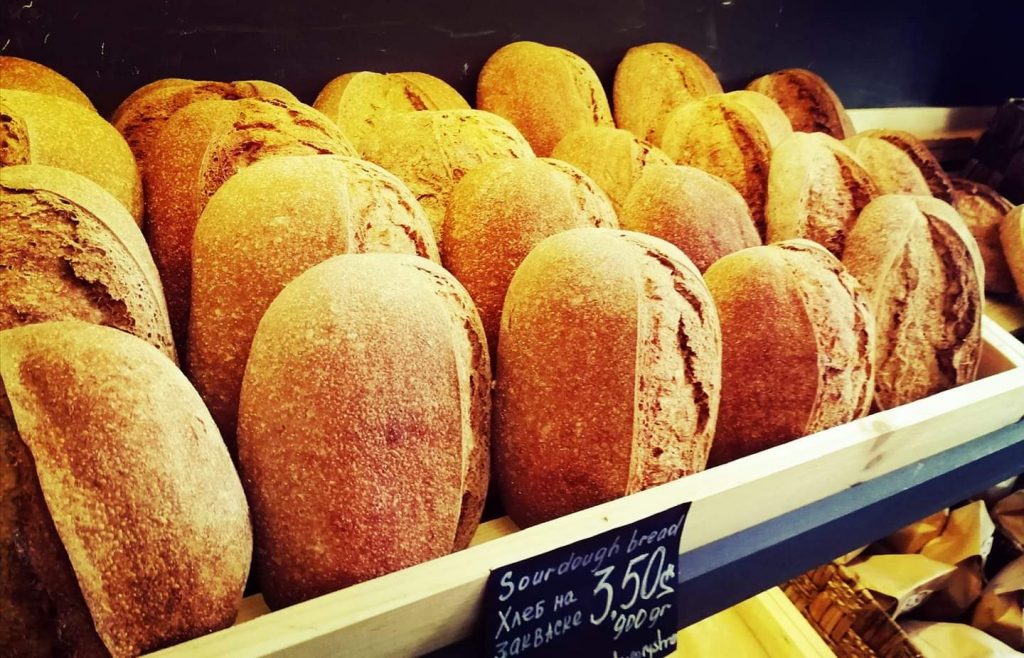 We don't use cheap products to cut costs because we also eat the bread we bake. I think this is a major reason why people trust us.That, and because our clients want to support small businesses. To show their gratitude and support, they give us little gifts, like towels, candles, and flowers.
People with food allergies often come to our shop, and we customize our baked goods for them. Interestingly, about 80% of our buyers are non-vegetarians and non-vegans. They come to us just because they love our bread. And they don't care that we might be a strange vegan sect!
DIY businesses like ours have a good chance of flourishing. If we maintain the same quality and momentum, we believe that our small bakery can one day expand into other countries. I guess that's the secret of DIY — striving not for quantity, but for quality and a trusted name. I think we've made a good start.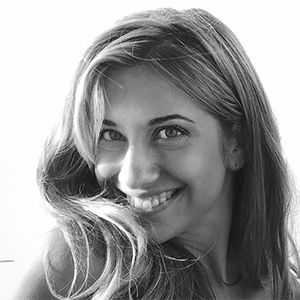 Rachel Minjock
The USA
When the pandemic hit, I felt scared and overwhelmed. Companies began closing their offices, and people started to work remotely. As for me, I had to keep going to work in Midtown Manhattan until the government finally decided the situation was critical and ordered the first lockdown.
I'm a swimwear designer by trade. Fashion design was my dream job. As a kid, I had a toy sewing machine, and I taught myself how to sew. After high school, I left my small hometown of Seven Hills, Ohio and moved to New York to study at Parsons and realize my dream of becoming a fashion designer.
During college, I started working part-time at a bakery and I really liked it. I worked there for only a year and a half before graduating college and beginning my career in fashion, but baking became my new hobby. I used to bring cakes into the office, and my coworkers loved them so much they encouraged me to start an Instagram page. When the pandemic hit and we were sent home, I got more and more into my baking. My friends and family were very supportive. My parents would even show their friends and next door neighbors photos of my cakes, as if they were my babies!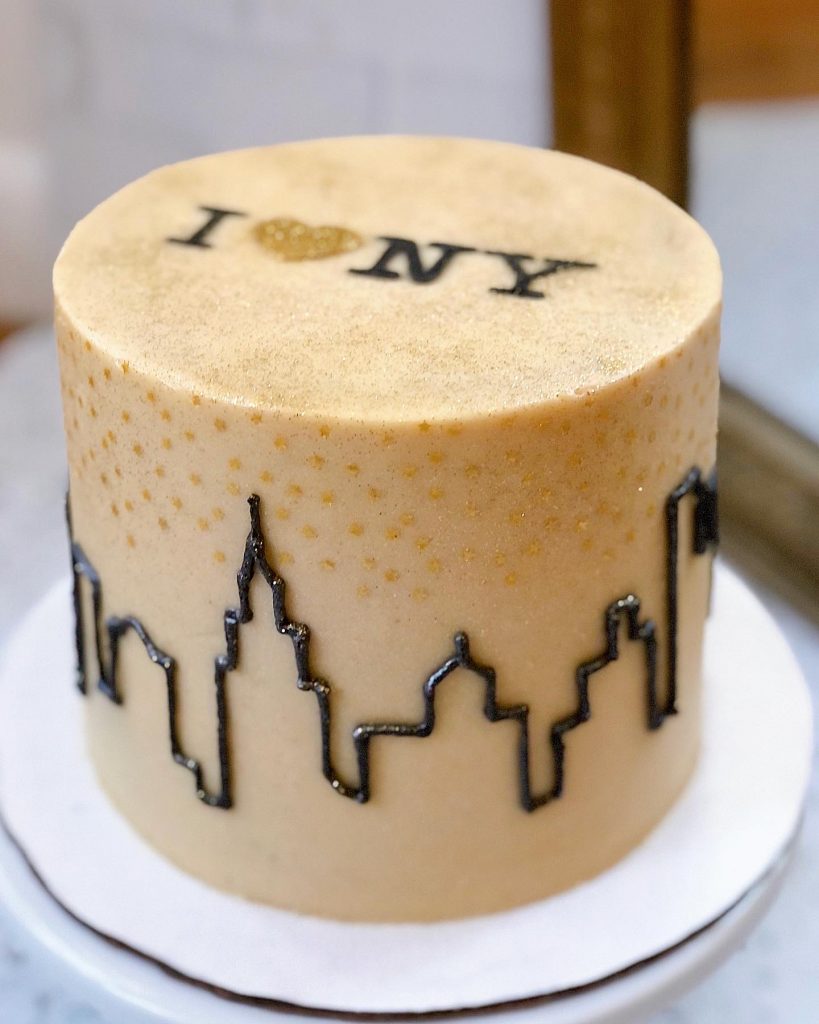 When I worked in the bakery, I felt really confident — I always knew I had a knack for baking. Living in Williamsburg, you meet a lot of people who sell handmade goods, and many who really appreciate a good cake or a tasty cookie. It feels good to be part of a community that makes things with their hands. We support each other and we promote each other's work.
When I started selling my cakes in September, I was getting orders from people that I worked with and from people that live in my apartment building. When I got an order from a complete stranger, I was so excited! Nowadays, fifty percent of my buyers are people I've never met, and I think that's awesome.
I've since returned to the office, and have less free time for baking. But in the evenings, after dinner, I still manage to get out my pots and pans. "You're not baking, are you?'' my boyfriend asks. Yup, I am! It's like a disaster zone right now.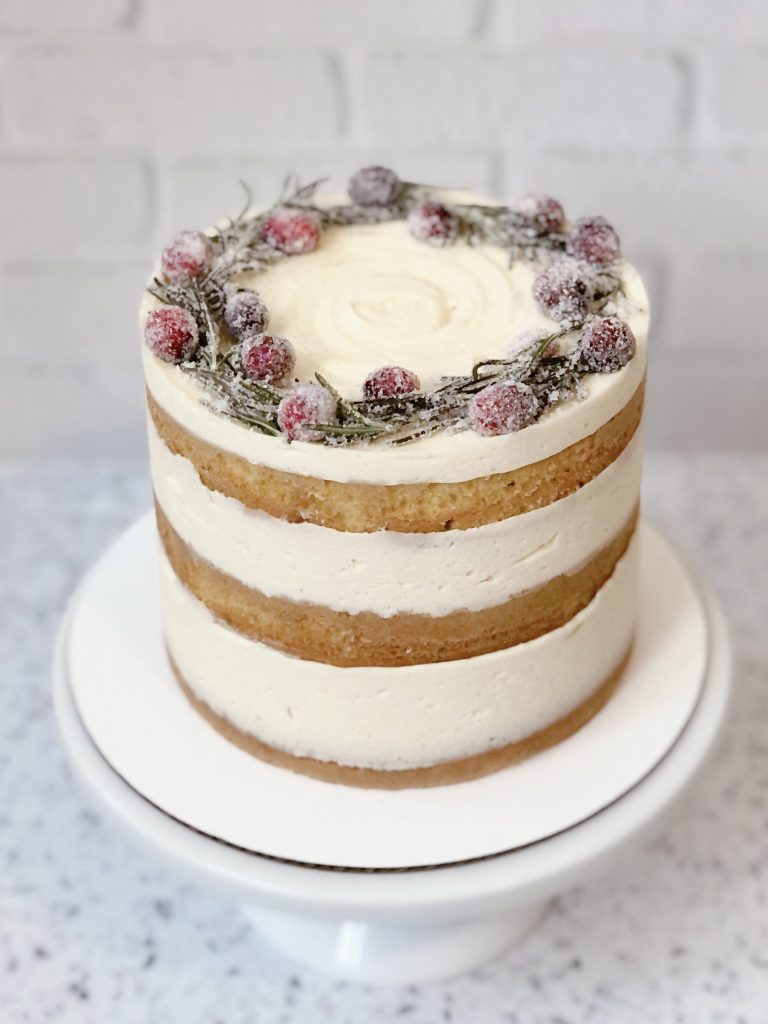 The experience of baking has changed my perspective on my job. Design has become almost fully digital, so you barely get to сreate with your hands. As a result, it's hard to feel personally connected to the work — there's less imagination and craftiness involved in the digital world. Baking, on the other hand, is so inspiring. I love coming up with new ingredients, exciting flavor combinations, and unique ways to decorate my cakes. The whole process usually takes about 5-6 hours, and I enjoy every minute. It's such an amazing feeling to create something, and even more amazing when what I create becomes an important part of a celebration, like a birthday or an anniversary.
Although I still design swimsuits for a living, in my heart I'm a person who really just likes to make cookies and cakes. Really, really good cookies and cakes. I can totally imagine switching gears someday and baking full time. Actually, yes, that'll be my goal! I don't know how many cakes it'll take, but that's alright. I'll just have to move a little faster and do a little better.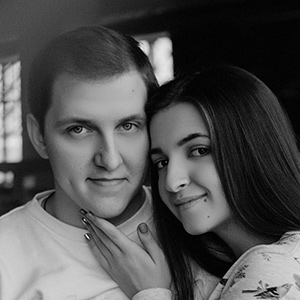 Valeria Ulitina
Russia
My husband is a lawyer and I'm a photographer. During the pandemic, I started taking fewer orders because it was scary to leave the house and shoot in public places. At the same time, my husband Dmitry realized that he could no longer work for his company because the environment had become too uncomfortable. The pandemic does not spare anyone. Even though we could adjust our careers, we knew that leaving your job without a backup was a risk.
We began discussing the pros and cons of opening our own business. At first, we didn't really know what kind of business it would be, but an idea struck when I got an order from a client who made aroma candles. When I came home after the shoot, my husband said: "How about we make candles?" It may sound unrealistic, but an hour later we came up with a name, a concept, and our own logo. We soon enrolled in an online candle-making workshop, watched video tutorials, and researched wax suppliers. It took us just a few hours to understand what kind of products we wanted to offer. The next day, we ordered oil additives for our candles.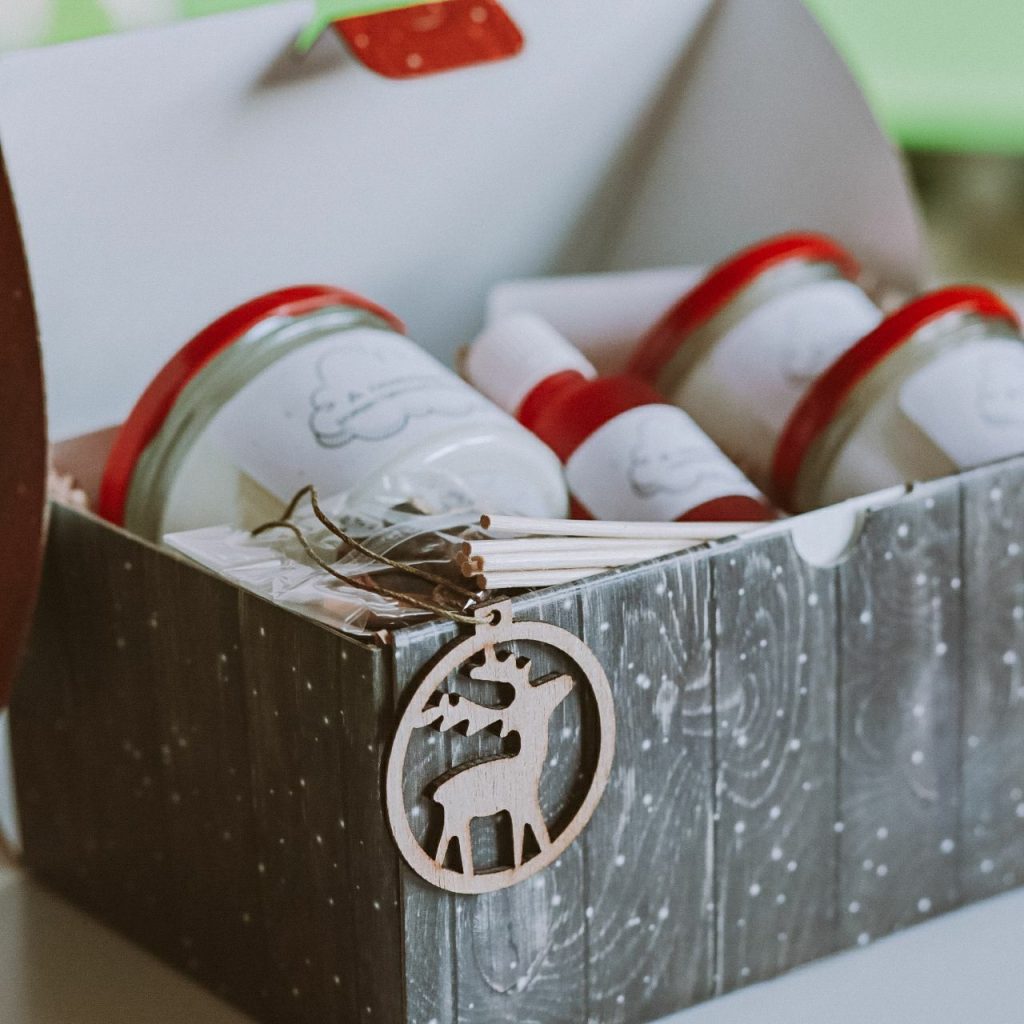 The idea for our business was inspired by this fact of neurobiology: people can remember places they've been and experiences they've had based on particular smells. I have my own fond memories of summer holidays in my grandmother's house, which always smelled like linden and lemon pie., halt in the forest smells like sage, lime and raspberry. Inspired by this fact, we came up with a branding concept. Our labels all begin with the words, "Do you remember?…" and they're followed by the name of a smell. For example, "Do you remember…coffee at the airport?" The possibilities are almost endless. At first we didn't not know which essential oils to combine, so we used our intuition and created mixtures that evoked different associations.
We tested our candles on friends and family. Surprisingly, no one doubted us! After two months of testing, we launched our business. Before long, we found reliable suppliers and delivery services, and created an Instagram page featuring pictures of our candles. We had to purchase a lot of materials for future use, so we took the money we saved and bought a car. We've since recouped all our expenses and are slowly approaching profitability. It may seem like all these details would make your head spin, but we dove right in. We always have fun experimenting and coming up with new smells.
Even though we don't ask for reviews, our customers send us sweet messages and come back to order more candles. All of this feels like a miracle to me.
One of the rooms in our apartment was turned into a workshop complete with shelves, tins, and lids. There are candles everywhere! In the morning, we prune the wicks. Thursday is delivery day. Most days, we discuss our business, study our competitors' products, and come up with new aromas. You can't be lazy when your goal is to deliver a high-quality product. We take our mission seriously, and we want our customers to enjoy our candles.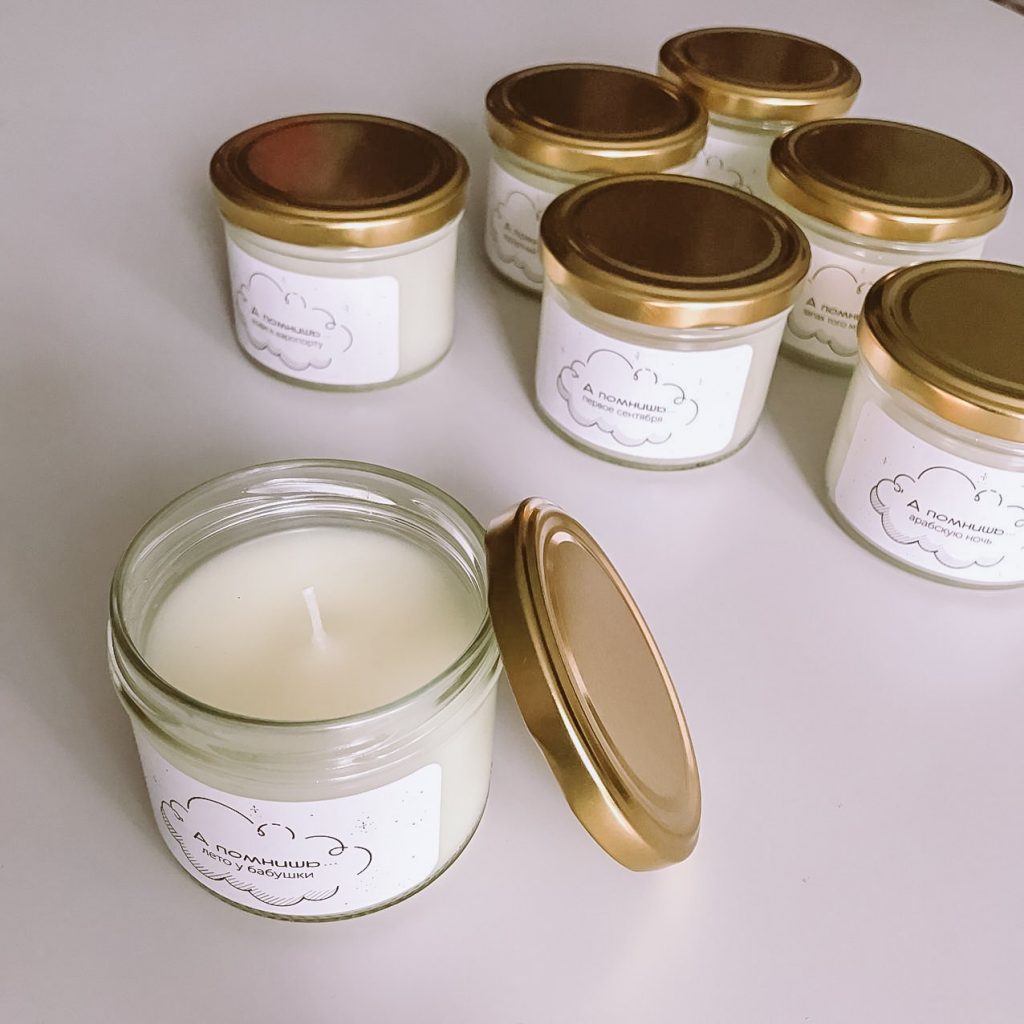 We could never have imagined how this idea would change our lives. We used to walk around markets in Moscow dreaming of selling our own handmade products, and here we are now. The dream has become a reality. In fact, we've just been selected for the Christmas fair, in which only 130 businesses are chosen out of 3,000!
The pandemic was a wakeup call for people. They realized that, regardless of where they work, they may not be fully protected in times of crisis. Therefore, it's important to think of alternatives, including branching out on your own and doing something you love. And besides, I believe the DIY trend will only grow as remote work becomes more common. Anyone can take part in it, whether they're lawyers, photographers, or women on maternity leave. But it takes courage. We'ree happy that we took the risk we did three months ago. Sometimes I wonder: what if I have to abandon my photography projects for candle making? The truth is, that's what I'm looking forward to.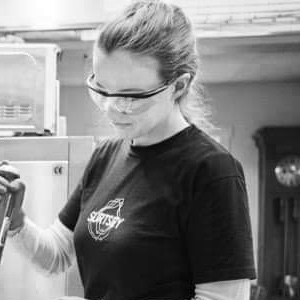 Maria Solomatina
Iceland
Four years ago, I met an Icelandic man in Moscow, and we began a whirlwind romance. When I got pregnant, we decided that it would be better to raise our child in Iceland. So I went on maternity leave and moved to a country I had never been to before.
I used to work for a large consulting firm. In corporate life, you're often cut off from the end product or service, and that can lead to burn-out. One minute, you're writing a development strategy for a bank, the next you're working with a new client. No one reports to you or tells you how you're doing. Sometimes your work is wasted. I learned this lesson after a year of developing a strategy with my colleagues. When the bank changed hands, the new managers told us they weren't interested in our strategy. I had worked on that project nearly 24 hours a day, for a whole year! It was brutal.
But that's in the past now. Iceland, my new home, is like a large and cozy village. Only 380,000 people live here — similar to a mid-size city in the US or Russia. Interestingly, Icelandic people live by a completely different set of social norms. Here it's normal to have two or three professions and to have a small business.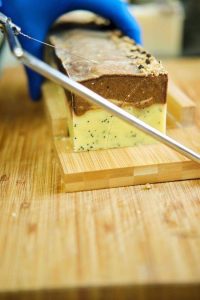 When I moved to Iceland, it wasn't easy to make friends. Apart from my child, his father and his family, I didn't communicate with anyone. That changed when I started my business. What began as a hobby turned into an operation. At first, I made soap for very practical reasons. But then I got more adventurous, experimenting with hot process and cold process soap, adding natural additives to make new color. I enjoyed bathing with it so much that I stopped buying ordinary soap. When I showed my friends, one of them was really enthusiastic and suggested that I try selling it.
But, I held off for a long time. I was afraid that my soap might not be allergy-proof and that someone could get a skin reaction from it. I started feeling more comfortable when I decided to use all natural ingredients, including oils and additives already found in food. I tested the soap on myself and then on my family, and was relieved to find out that everything was okay. So I found a campsite near Reykjavik where vegetables are grown, and I started selling my soap at an open-air market. It's been an awesome experience. People have been so generous and supportive. "Buy soap from Marie!" they'll say. I love when older people come to me and we communicate in Icelandic. I feel like I'm doing something good for them and for the community. Without a doubt, making soap, bringing it to the market, and meeting locals has given me the greatest satisfaction I've had in a long time. It's what I missed so much in my old life, working for a large company whose only goal was to maximize income.
When I'm making soap, I use rapeseed, shea, and coconut oil — this gives it a beautiful texture. During the production process, I use all protective equipment, including a respirator and gloves. Also, I don't make soap when my son is at home because I work with alkali. We've equipped a separate room for the drying process..
I credit young people with starting the DIY trend. They wanted to do something meaningful in their life, and making a lot of money wasn't it. Now that many of us are working from home because of the pandemic, we're realizing all the possibilities for personal satisfaction. Perhaps in the future, most of us will have several jobs we love, instead of one we hate.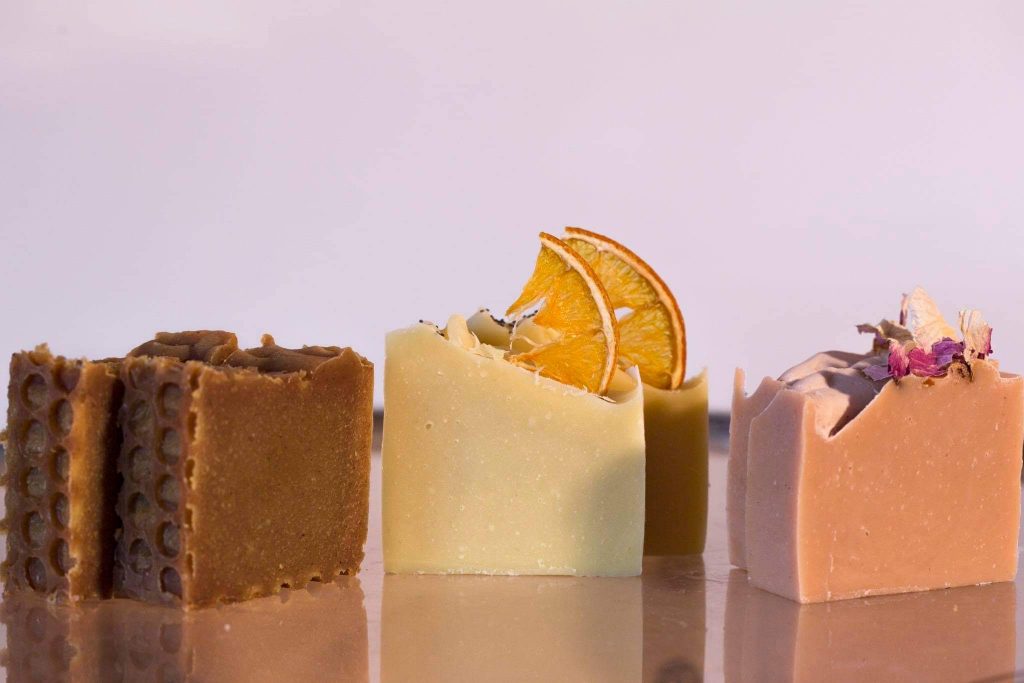 We shouldn't underestimate the power of hobbies. Not only are they therapeutic, but they allow us to connect with like-minded people. For instance, people invite me to their homes and we make soap together. Afterwards, they share it with their friends. It's a pay-it-forward kind of ritual.
Fortunately, having a small business is common in Iceland. One of my friends here makes jewelry, and I recently ordered an item, paying for it partially with my soap. I make some money with it too, of course — for example, I can earn over $350 in one day when selling at an Icelandic market on Saturday.
I'm mostly grateful and proud that my soap project helped me tackle immigrant struggles. When you find yourself in another country, it's difficult to overcome social, cultural, and linguistic barriers. I now consider myself almost fully integrated into my community.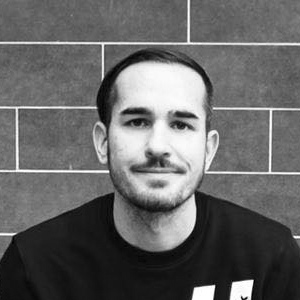 Fabian Precht
Germany
Before the pandemic, I worked in sales in a Berlin-based startup called PayFit. I wasn't happy and I wanted to quit, but I couldn't make the leap.. When the pandemic hit, some of my colleagues were laid off, others took Kurzarbeit (a government-enforced reduction in work hours). Soon after, I told my manager he should let me go so that someone else could keep their job.
I studied electrical engineering in college and then got a master's degree in industrial engineering in Berlin — but I ended up in sales. I had always wanted to do something on my own, but didn't have the courage or motivation. The pandemic gave me the kick I needed.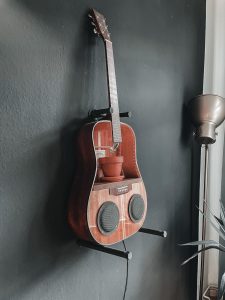 I've always enjoyed building and doing craftwork, and my friends often asked me to fix things in their homes. Reflecting on that, I asked myself: why not start my own business? I would make and sell handcrafted, industrial-designed furniture using recycled or upcycled material, like metal piping and wood.  And that's how "Fabulous.D1Y" was born.
As a DIY-er, I get as excited and happy as I did when playing with steel and copper pipes around the playground. You're never too old to build things. Sometimes, you just have to set your inner child free to explore and express itself. Don't think about the long-term consequences, just do something. I believe that's the secret to creativity. You can't plan things out meticulously, worrying what could go wrong at every step.  It's about following an idea wherever it leads.
In the beginning, my flat served as my studio — I created my first bench right next to my bed! After a few months, I  was able to rent extra space for my atelier, and that's where I do most of my work.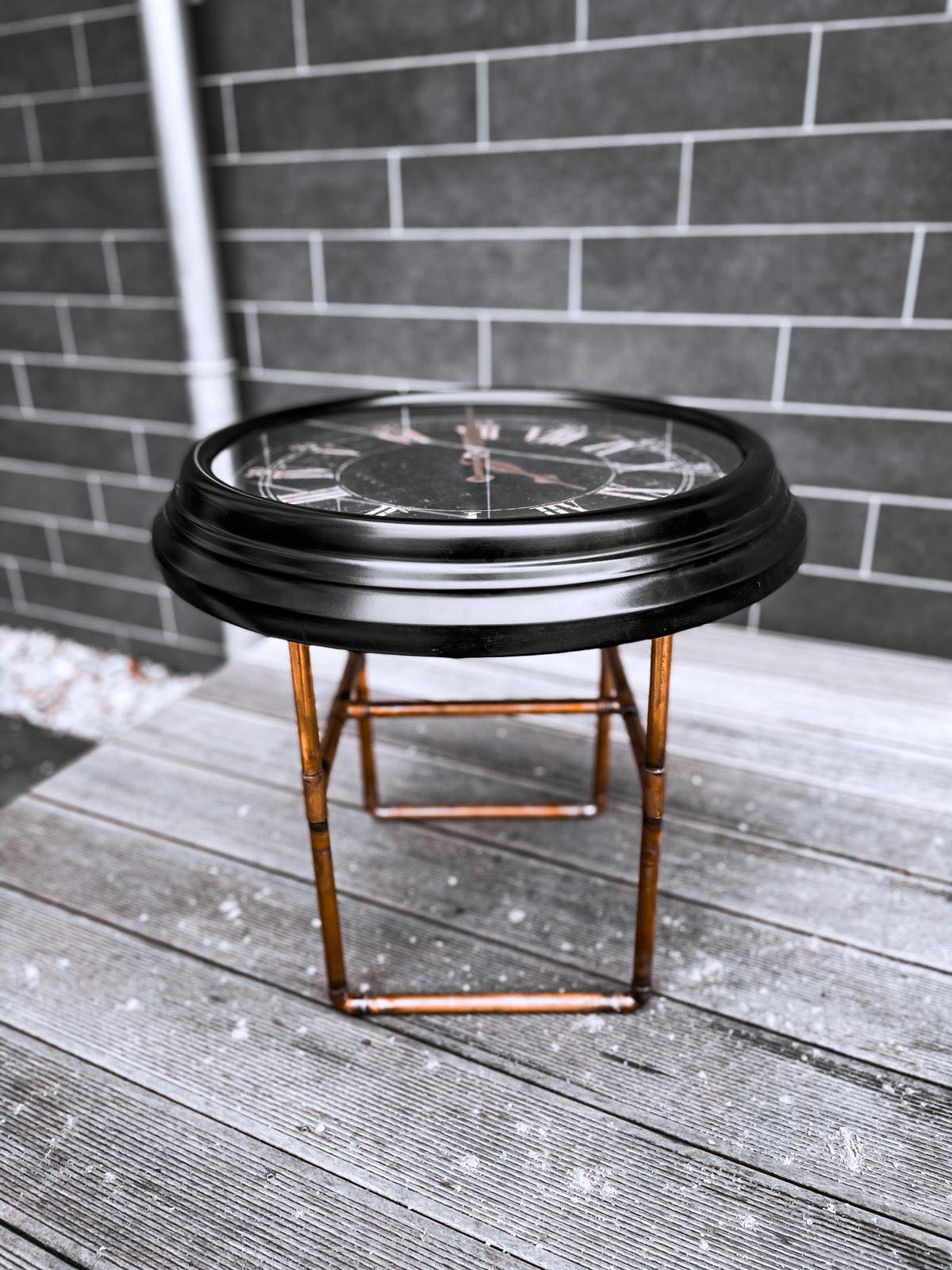 I don't know why, but in Berlin there's always so much stuff just lying around along the streets. Most of it is garbage, but now and then you discover some real gems, like old furniture, building equipment, and raw materials. I take those and use them to build whatever my imagination envisions. Some things are ugly, but they're too good to throw away. For example, I recently found a beat-up old grandfather clock. Most people would have ignored it, but I took it and turned it into a massive coffee table.
Not only do I love creating furniture; I'm also thrilled to promote it on social media. Just the act of sharing what I'm doing and what I've achieved with other people gives me joy. At first, I felt weird recording myself and listening to my voice, and I had to build up the confidence to upload my videos to YouTube. But the more time I spent in front of the camera, the more fun it became. I now embrace it.
All in all, it feels like I've finally found the perfect combination of craftwork and intellect.
My greatest motivation is bringing people joy with something I've made. Given all the time I spend promoting my work, I see myself now as a DIY blogger. My dream is to move to a rural area where I can run my business and earn money through my videos, pictures, and DIY stories.
One of the big challenges of DIY is price competition. People have gotten used to the lower prices of big-name companies like IKEA. If you can get a table for 60 euros, it's harder to sell a nice handcrafted one for 300 euros. But I think that's beginning to change as people spend more time in their flats and take a greater interest in interior design. They're also placing a higher value on living authentically.
I don't think I'll ever become wealthy doing what I'm doing, but I really enjoy working for myself. When I was younger, I always thought I needed to work to become rich. But now I realize that I can do what I love independently, and that just money can't make me happy.
Something that has really inspired me along the way is the following motto: "If you can't find the perfect job, then create it." These words got me going in the first place, and they keep me going.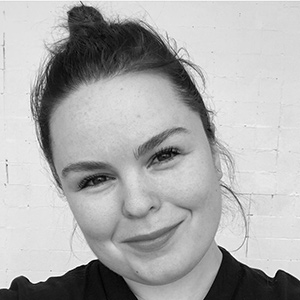 Margarita Zhuravleva
Russia
I used to work for Rain TV, a liberal news station based in Moscow. When you work in news broadcasting, you get this adrenaline rush and you live from one breaking news story to another. You skip on food and sleep — you just work, work, work, and your stress level shoots through the roof.
Arts and crafts have always helped rest my mind. Mostly, I like to knit. When I start doing needlework, I know that means code red: I am seriously stressed out. One time, however, I decided to try beading.
Until the pandemic, I hadn't beaded anything for ten years; it was a childhood hobby of mine. But now I was seeing expensive brands selling beaded jewelry!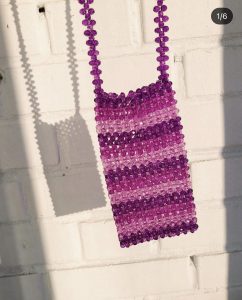 This past summer, I noticed celebrities on Instagram wearing beaded jewelry. I'm a gambling person and I love challenges, so I thought it would be cool to start selling jewelry. After all, I already had beads and fishing line at home. So I made a small batch, posted photos on Twitter, and set the price between two and three dollars; but people weren't interested. It reminded me of when I was a kid, and our cat would give birth to kittens once every six months, and we tried to give them away for free. Nobody wanted them. So my mother decided to sell them — apparently, when you pay for something, you expect to get a guarantee, and if not, at least the right to return the item or ask for advice. So I raised the price of my jewelry to $15-20, and that worked!
In August 2020, I still had a so-called "normal" job with a stable salary. The work was remote due to the pandemic, so I was able to bead and even earn some money from it.
Since then, I've been beading daily for almost a month. At the end of August, I told my boss that I wanted to leave. After I left, I received a lot of offers promising a higher salary, but that didn't make me feel any better. "I'll work a month and be unhappy again," I thought. So I kept looking for something meaningful.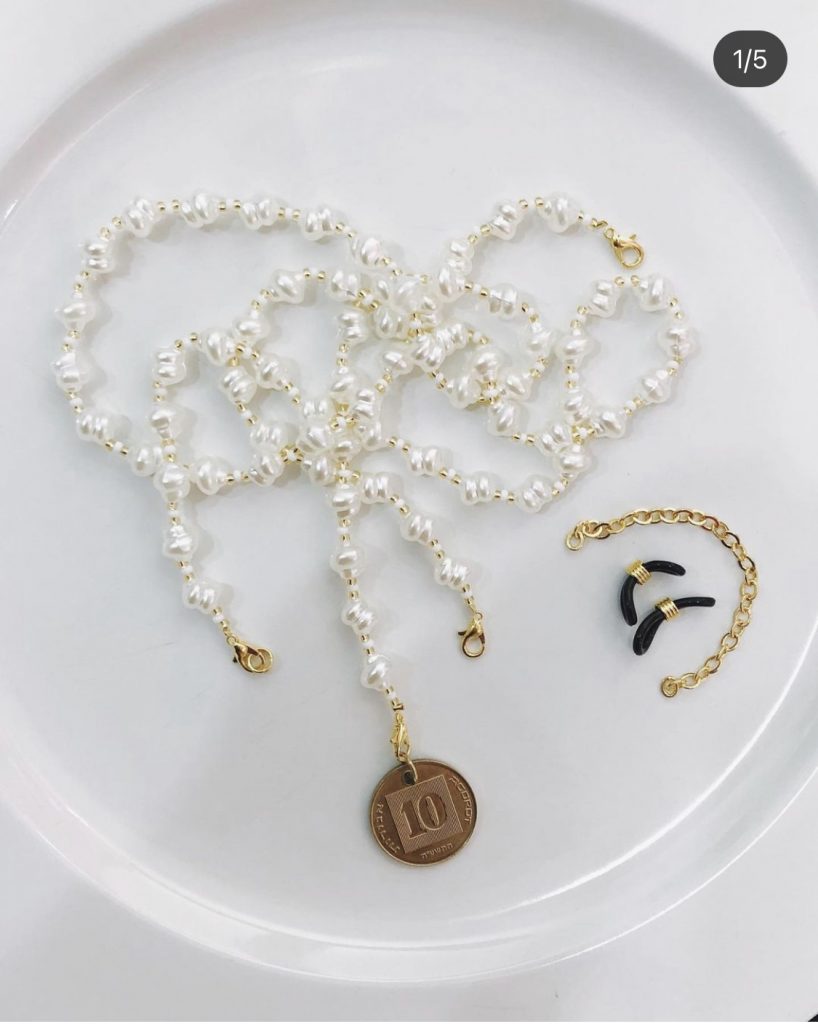 One day my mother called and asked how I was doing. I told her that the situation was pretty miserable. Although nothing terrible had happened, I just felt unmotivated. We began to brainstorm ideas for my future. What would change the course of my life and bring me joy? Finally, I realized that making beaded jewelry was the most exciting path. So that's what I do now full time.
When I started, my friends reminded me that I tend to launch a project, focus on it for a short span of time,, and then wrap it up abruptly. So I created a sales plan, set myself a long-range goal:(I would bead until early 2022, knowing that the time around New Year's can be lucrative; after that, we'll see), and I established a client base. In the past three months, I had about one hundred customers! The work has been good for me. In fact, I think of beading as a form of meditation. It centers me.
Recently, micro bags have become a trend, so I started making those. I research the bags that expensive brands are selling, and I can see there's not a lot to choose from. I'd like to compete with Fendi someday, and I believe I can.
I have my ideas about the DIY trend. We live in an information age, and we want to work with our hands again. We also live in a corporate world flooded with mass-produced commodities. Between Coca-Cola and craft drinks, or clothes at H&M and something that your friends made, we'd rather choose the latter. It just feels right to choose something local, cozy, and ethically produced. DIY also frees us from annoying comparisons. I mean the kind that your parents are guilty of: "if you could only be more like your brother/cousin/mother's friend's daughter." How oppressive is that! Once you embrace your own way of doing things and adopt a DIY attitude, you're so much happier.
Prepared for The Vivid Minds by Anna Ryzhova and Marina Solnzewa, edited by Anastasia Chernikova and Christopher Lapinski