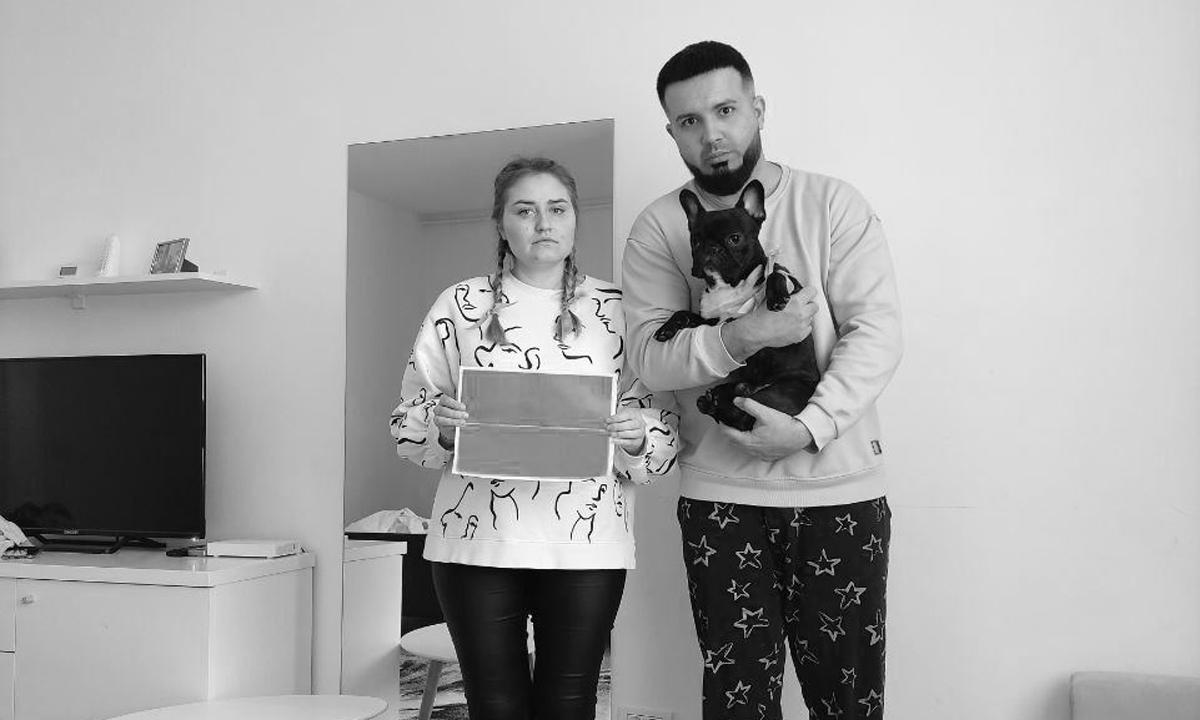 Ukrainians on Their Escape Journeys and the Toll on Their Mental Health
From the beginning of the war in Ukraine, thousands of Ukrainians left their homes. Some of them had to pack their belongings so quickly that they forgot to take an extra pair of underwear. Moving to a new city they experienced the hardest journeys of their lives full of tears, guilt, panic attacks and problems they could not predict. The Vivid Minds tells their stories.
Disappointment
On February 22, Svetlana Vinichenko and her husband Ruslan were in their apartment in Kharkiv. They were watching the evening news, when they saw that Russia had recognized the independence of Ukraine separatist regions Donbass and Luhansk. It took them half an hour to pack their things and jump in the car.
"My family lived in Sloviansk, which was invaded by the Russians in 2014. I knew what the war looked like. I knew that Kharkiv would be invaded and I could not handle living under fire, hiding in the bomb shelters", — Svetlana told The Vivid Minds over the phone.
Leaving home was hard. They had just completed renovation in their apartment and bought a car.
"We were finally having a stable, grown-up life", — Svetlana said.
That night they moved to Odesa, a city on the coast near the border of Moldova, which seemed safe at that time.
Once they arrived, they felt calm, but in the middle of the night, a noise woke them up. Their apartment was overlooking the sea. Svetlana looked out the window and saw numerous little stars growing bigger.
"When I took a closer look I realized they were rockets. I had a feeling that they were coming towards me. I had never been that scared in my entire life", — Svetlana said.
Once again, they packed their belongings and went to the border. They had to act quickly. The borders could soon be closed for men of conscription age. They left the car and crossed the border on foot. Soon, they were on the plane to Bucharest, the capital of Romania.
Once they arrived and took some time to process the recent events, they were overloaded with guilt.
"We felt ashamed because our friends and neighbors stayed to help and to volunteer. I felt disappointed. My husband also felt bad, as he was physically strong and yet left his country".
Svetlana found a therapist, but she gave up soon. While they were talking, the therapist asked if they could continue later because she had to hide in a bomb shelter.
"There I was, complaining about guilt and shame. And here this person with actual problems who had to escape the fire. It was surreal".
There were also their families to think about. Svetlana's family decided to stay in Sloviansk. Ruslan's grandmother moved from Kharkiv to his relatives' house in the other part of Ukraine. And his mother decided to join him and Svetlana.
Three days after arriving at Guarda in Portugal, Svetlana experienced panic attacks for four days straight.
"I think it happened because I finally had a chance to relax", she explained. "Before that, I tried to keep it together".
Svetlana and Ruslan moved into their new apartment in Lisbon. Since Ruslan is an IT specialist, relocating didn't affect his work or income, and he continues to support himself and his wife financially.
Every three days Svetlana coaxes herself into crying to release repressed emotions.
"Sometimes, we feel blue in the evenings and share our feelings to help each other. We were on the run, and now we finally have time to properly realize what was happening to us and our home".
Right Place
It was 5 AM, when Andrei Salamatov, a psychotherapist from Kyiv heard the explosions for the first time. He did not panic. Living in Ukraine, he'd gotten used to cataclysms. According to Andrei,
"In Ukraine, we live from crisis to crisis. We witnessed several revolutions so far".
He watched his friends leave Kyiv in a panic, stuck in traffic jams for entire days. Soon, Andrei and his wife decided to move to their house near Odesa. When they got there, Andrei cried for the first time since the war began. In a couple of days, he experienced a panic attack. As a psychotherapist, he knew exactly what to do: set a timer, get into a comfortable position, try to touch different materials and describe them (e.g. scabrous plastic, for instance), and imitate boxing and running in place. In 15 minutes, it was gone.
To maintain a good mental shape, he follows a daily routine. Every day, he gets up at 6.30 AM and takes some time to listen to lectures on philosophy and psychology. Around 9 AM, he eats  breakfast, then he works and spends some time with his family. He also volunteers by giving psychological consultations. Even though he lives under constant fire, he doesn't regret staying in Ukraine.
"I am in the right place. Those who stayed are the roots of the nation, I reckon. They hold the soil together. Those who left, they are as vulnerable as our souls. Those who rushed into battle, they are our strength. As for the volunteers, they are our conscience".
Starting from Scratch
Daria Tiuiakpaieva, a 27-year old graphic designer, moved to Kharkiv two years before the war. She had a job and taught children for extra income, and although the room she rented was remote and her two jobs left her with little free time to explore the city, she really felt at home in Kharkiv.
At 4 AM оn February 24, explosions and car alarms woke Daria up. Soon came another blast, the windows in her room were vibrating. That's when she realized that the war had come to the region. She got up, put on the clothes she had prepared the night before to go to work, and quickly packed a bag, putting in just the bare necessities — her computer, charger, some deodorant, a few pair of  underwear and her identifying documents.
"I was overwhelmed with anxiety, physically as if my brain filled my entire skull, and I no longer had any room for thoughts", — Daria recalls.
The subway was still shut down, so she walked towards the center of Kharkiv. Every time she heard explosions, she ran away. The streets looked empty, although shops, parks, bus stops still looked as usual. With the help of a friend, she managed to get to Poltava and then to Lviv.
There Daria shared a flat with her friend and two other guys, who wouldn't stop reading the news and shouting about the Ukrainians' victory. They looked for Russian phone numbers to send photos of dead Russian soldiers. Daria found it disturbing and tried to concentrate on her daily routine to stay calm, though others saw her as indifferent. Air -raid sirens went off eight times a day, forcing the four of them to grab their bags and run down seven flights of stairs.
"One day we decided to ignore the siren, because we were done reacting to it, but I was scared of explosions, and I called my mom, who advised me to do some exercises to relax my body, and it helped. Some days after, when I called her again, her voice had changed. She seemed to give up and needed my support, even though she lived in Dnipro, in a safer region", — Daria said.
Her friend Henna invited her to come to Berlin. Daria persuaded her mom to come too. With the help of volunteers, they soon found a flat near Berlin, where they could stay and start over. To feel better, Daria's therapist advised her to avoid reading news on Ukraine.
It turned out to be hard for Daria to keep in touch with most of her friends in Ukraine.
"I can't tell them how devastated I feel about what is happening and how much I miss my home. It seems like I don't have the right to share my emotions with them, since I left and they stayed. If some of my friends do ask me how I am, I never go into details, because at least there are no missiles here and I'd better put aside everything else", — Daria said.
Discussing the war with relatives has become another traumatic experience. Daria's father has Russian roots and supports the invasion. So does her aunt, who lives in Russia and can't understand why Daria left Ukraine.
"She suggested I wait out in a bomb shelter for a couple of days and then go on living a happy 'Russian life'".
She doesn't believe that I saw houses exploding, not only military installations. I told her I couldn't stand our conversation and then banned her", — Daria said.
Her dream is to get back to doing graphic design and to instructing children. In March, a volunteer brought her some paint and a canvas but it took her a month to paint something — she made a portrait of her friend Henna, who got her out of the war.
Daria gives free online drawing lessons to children from Kharkiv and hopes to get back the life she had before the war.
"I would be happy to come to Germany as the person I used to be before the war, not the person I have to be now. The happy life I was aiming for was ruined, and it's time to start everything from scratch".
Feeling Ukranian with a Russian passport
Tatyana Overina was born in Ulan-Ude, a city in East Siberia. She studied in St Petersburg, then moved to Moscow and spent 20 years there, before being invited to join the team of one of the Ukrainian charity foundations as a PR-director. Despite having a Russian passport, Tatyana realized early on she wanted to settle down in Kyiv. She started building a house for her parents near Bucha, bought an apartment in Kyiv and started furnishing it:
Even before the invasion, Tatyana thought war was a possibility. On the evening of February 22nd while she was discussing potential scenarios with some friends, they decided to pack their things in advance and leave for Lviv in case the war broke out. Coincidentally, Tatyana's business trip had been canceled the day before, so her suitcase was ready.
The day of the invasion she woke up at 6 AM and found dozens of missed calls from friends.
"When I went outside with my suitcase, everything around me looked like a scene from a Soviet war movie: the cars, the sounds of explosions and sirens. I gave my cat to a friend and went to see the friends, with whom we had planned to leave for Lviv".
The entire city was being evacuated. As Tatyana and her friends waited in traffic for hours, they found out that Lviv was also being attacked., It became clear that they needed a change of plan. They headed immediately to the border.
"For the first time in my life, I felt at home."
On the way out of Kyiv, Tatyana's friend's son realized he had left his army exemption at home, so their family decided to stay behind for another night . Tatyana kept thinking she couldn't afford to waste time as Schengen countries started to cancel Russians' visas. So she had to cross the border within hours. She got out of the car in the middle of the traffic and walked along the road with her suitcase.
"Only two hours later a bus driver agreed to pick me up. I was the only one of all the passengers who was interrogated at the border for a long time because of my Russian passport.", — Tatyana says.
As soon as news reached the US, her friend in New York called her and told her to fly over.
When she landed in New York, all she felt was fatigue and guilt. She spent the first two weeks in the US helping her company's employees leave Ukraine and find a place to stay in other countries.
After 10 years of working for a Ukrainian energy company, Tatyana was fired, since the company no longer wanted to deal with Russians.
"It turned out that in Russia I am the person who puts anti-war posts on Facebook, while in Ukraine I am the person with a Russian passport".
During the first few weeks, helping others leave Ukraine was a source of energy for Tatyana.
"For the first two weeks I was holding on thanks to this — I was living off adrenaline and did not even notice any problems", — she recalls.
So when she was fired, she didn't just lose her job — but also a support system:
"I stopped working, being constantly in touch with my employees, who need help to get out of the country, and I don't feel I am needed anymore".
Tatyana considers Ukraine to be her home, and on the first day of the war she would have agreed to exchange her Russian passport for a Ukrainian one. But a new law passed in Ukraine makes it legal to confiscate the property of Russian citizens who support the war. Tatyana is worried about it, because she doesn't know how this law may work and what will happen to her apartments in Kyiv and her parents' newly built house. Still, she is glad that she hasn't relocated her elderly parents from Russia — together they would have been more vulnerable. And perhaps they wouldn't have escaped the war.
As Tatyana watched magnolia flowers bloom at the New York Botanical Gardens, she thought of Kyiv at the end of April.
"For the first time since the beginning of the war I had the strongest wish to return, and I started crying. Even the smartest Ukranians I know now express aggression towards Russians, no matter their political views. I don't know whether I can ever return".
Written by Anna Ryzhkova and Varvara Selizarova.
Special thanks to Masha Kushnir.
Edited by Alexandra Tyan and Anastasia Chernikova.