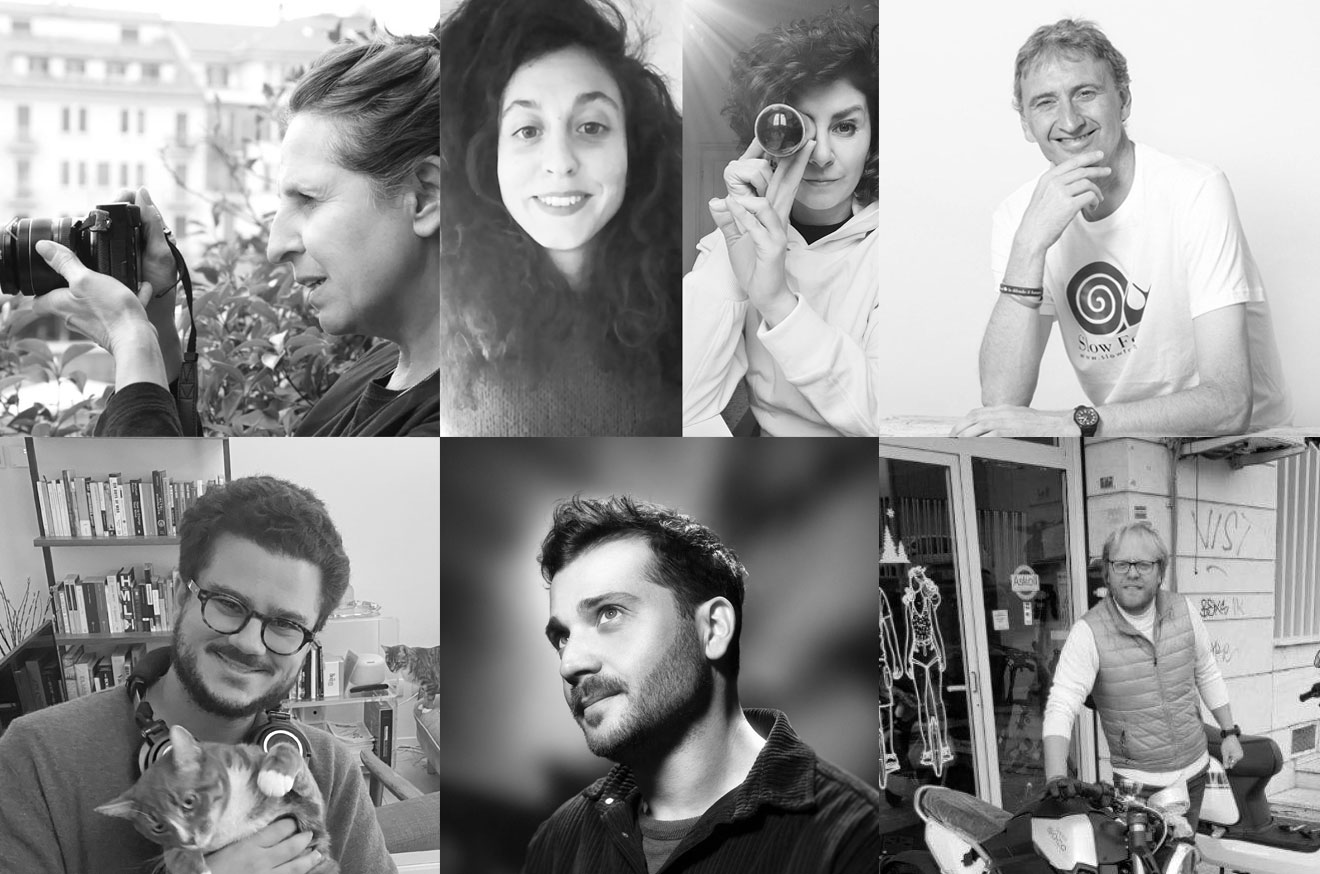 Italians Talk About Being in Lockdown, the Power of Art and Local Businesses
Italians, normally the most joyful nation, have faced an unprecedented crisis with thousands of deaths caused by coronavirus in just a month. We talked with people living in the country to learn how it has affected them and how they manage to stay calm during these trying times.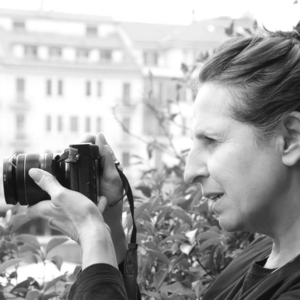 Bruna Rotunno
Photographer
I created an Instagram page @italy_lockdown when I was in Milan during the lockdown, and invited photographers from different parts of Italy to contribute to the project to document this terrible time.
During the first stage of lockdown, we were allowed to work, and I used to ride my bike across the city. I took a lot of pictures of Milan with mixed feelings. The city looked abandoned but at the same time so beautiful! I wanted to keep those moments for the future. I noticed birds coming back to Milan during the lockdown, because of lower pollution. It's amazing to see how nature is rejuvenating after people have left the city.
Now I'm stuck at home, but I'm lucky because there are a lot of artists in my building and we communicate inside our creative community in a beautiful garden. We respectfully keep the recommended social distance, and this is a big challenge.
In a pandemic, you have a lot of time to think. It's time to realize the value of relationships, it's time to get back to our roots. What are we trying to achieve? Why are we so crazy about technology?
It looks like the country will be closed for at least a few months after the pandemic is over. For Italy, from an economic point of view, the consequences of the crisis will be tragic. I think we will need at least a year to recover.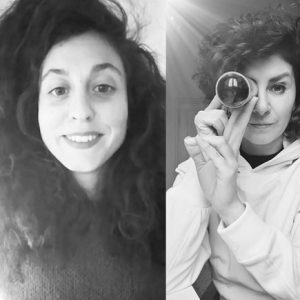 Tatiana and Adelaide
Artists
Before the virus shut down all of Italy, I used to work in the College of Art & Design in Florence and was making money on drawing lessons and walks in the city through an Airbnb Experience. When we found ourselves in lockdown, we had to leave all of this and stay at home.
The hardest part of this crisis is not staying home, but the psychological pressure. You constantly hear stories of your close friends, whose parents or grandparents are dying so fast, doctors who are not able to sleep or rest anymore and the empty silence in the streets. «Life is shorter than you think» is written on the wall at my local supermarket where you go for about 1 hour a week to get food.
This situation is clearly showing the different ways and styles of struggles in each country around the world. Here in Italy, people are trying to resist through positive energy, music, jokes and art. There is no better way we can do anything about it, just to keep it up. My flatmate is an Italian scriptwriter and actress. She is writing a new story every few days for kids and adults and I'm doing illustrations and animations for them. This is the only way for me to stay calm and at peace, that's what I've learned from that. It's already the 3rd week of lockdown and I'm losing control of days and, sometimes, in the morning when I wake up, I think that all of that might have been a nightmare, but unfortunately, it's still real.
The whole world now is on pause. I do my best to use all my drawing skills in order to keep the hope and good energy in short animations. Here is my last one about Italy.
Adelaide and I are getting ready to publish a new short animation about a little girl who wanted to have a Sunday forever. The constant Sunday had its own hard restrictions as non-permission of walks out, no friends meetings, hugs and kisses.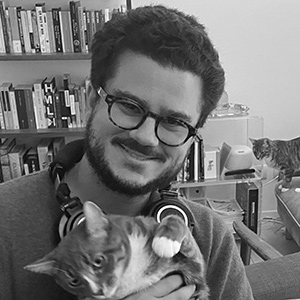 Jacopo Penzo
Producer at iHeartMedia
Could you ever imagine that you need an authorization to go for a walk? No, but that is what is happening in Italy.
I live in Milan, and the last three weeks I've spent inside my small apartment trying not to go crazy. Until last week, we were allowed to go for a run or walk but now rules are stricter. You need an authorization to even go to the grocery or pharmacy. Before leaving the apartment, you must submit a document with your contact information and your itinerary details. Without that authorization, it's considered law-breaking and you'll have a big fine, about 300 euros.
I used to do a lot of physical activities like walking and biking. After a few days inside my apartment, my body started aching because I didn't move enough. Fortunately, I have a nice balcony, and I can stay outside and enjoy the sun and nice weather. I also started doing online yoga.
My daily work routine hasn't changed much because I work remotely for iHeartMedia. As a podcast producer, I didn't need to meet with many people, I just needed my computer and a WiFi connection. Normally, I worked from a coworking space, and now I'm working from home. My friends from the film production industry here in Milan already lost their jobs, because many projects were postponed, and it looks like it will continue at least for a few months.
Staying days and nights at home makes it tough to stick to your schedule. You sleep, work, eat, do yoga, and all of that happens in one place. There are no borders between different parts of the day, and I personally find it difficult.
The biggest challenge for me is definitely the lack of human contact. We all take for granted our dinners and drinks with friends and family, hugging people, and even walking together.
I'm lucky because I live with my girlfriend and two cats, but my single friends are going crazy. Staying at home alone, sometimes in a tiny apartment, can be miserable.
Despite this crisis, I can see positive aspects. We've started appreciating all the simple pleasures like meeting and hugging friends. Patriotism has increased too – people are getting closer to each other, you notice it on the way to the grocery store – everyone smiles at you. Also, we have a new tradition. Every day at 6 pm you go on your balcony or terrace to play music for your neighbors, it is beautiful and poetic. I enjoy this feeling of being together in this tough situation.
Another positive aspect is to see nature blooming. The city is less polluted, and nature is reclaiming its position. Rabbits have come back to the parks of Milan. I have lived in Milan for 25 years, and I've never seen rabbits in our parks!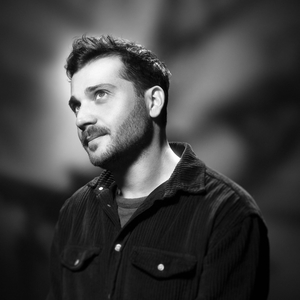 Ricardo Pe
Craftsman, Founder of a printing laboratory Vacuum
Before everything stopped because of this health crisis, I had a very intense and varied weekly routine, which included work as a laboratory technician at the Academy of Fine Arts, at my printing laboratory, collaboration as an assistant for an artist and a new assignment at another university. Now the dynamic that was at the basis of my daily work is contained within the rooms of my apartment which has, therefore, become my workplace, a studio and a small and functional shop. Fortunately, I live alone, and therefore I have no problems sharing spaces, but on the other hand the solitude of everyday life today is a condition extraneous to the collaborative relationships on which my activities are based.
The biggest change in this situation lies in the times when life takes place both during work hours and during leisure hours. Everything is dilated, and it seems to be living a long endless weekend, in which the time available to me is dedicated to working on my projects in the total calm of a normal holiday. Personally, I'm trying to not constantly be updated on the situation, on the death toll and on the new infected. This allows me to emotionally estrange myself from the real state of things, and I can dedicate myself to things that I wouldn't have been able to do before. I take advantage of this tragic moment and the total solitude of my days to focus on my creativity. Living in the anguish of evil you want good, and focusing on my artistic activity gives me hope, it's my survival instinct.
I hope that all this will end soon, but that each of us will come out renewed. I consider this tragedy a great opportunity to review the priorities of the deeper meaning of life that we all have. Our habits, our needs, the ambitions we have could converge in a wider sense of common well-being for a better, but simpler, quality of life. Precisely because all of this suddenly struck us, taking every type of organization off guard, creating chaos and still keeping us in anguish for not being able to find a cure for the virus, it must remind us how fragile our nature is. And for how much we may desire to make progress as human beings, we must hold fast to awareness of the temporary condition of our nature.
I am learning how to enjoy my time and how to face calmly tragic situations like this.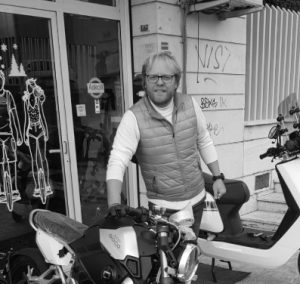 Carlo Zuccari
Founder of electric mobility company "Litio"
My business has been closed since March 10th. We decided to close the shop one day before the lockdown to help people to remain at home, with no motive to go out. In the first week, it was really difficult to understand how to spend all days at home, from the second week we started to work online.
It's hard to run a business when you need to speak with people face-to-face in the shop. What happened is the most unforeseen and desperate situation we've ever seen. As entrepreneurs, we try to be ready and anticipate the future, but today it is really too early to predict what will happen. I think that my business can be paused just for two months at most without being ruined. Let's see. Overall, I suppose dozens of thousands of Romans will lose their jobs.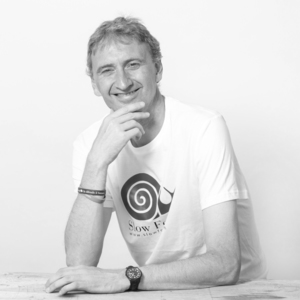 Paolo di Corce
General Secretary of Slow Food Italy
We are a completely different organization than we were before the outbreak of coronavirus. Just a month ago, we were doing activities in solidarity with China, and we thought that it's far away from Italy.
Slow Food Italy closed all offices across the country a few weeks ago. Slow Food Italy closed all offices across the country a few weeks ago. At the Italian headquarters, we have 150 employees who now work from home. We have to apply for public support to be able to continue working. People work for a few hours and get a little salary from the government fund (usually it's one-third of your salary), but all our staff are with us. People are one of the values of our organization and we will fight for them.
The immediate impact of lockdown is huge and devastating. As a global organization, we organize many activities around the world. We had to cancel hundreds of events! Some of the activities we managed to bring online, for example, some courses of our Food Education program. But how can you do food tasting via the Internet?
Every day I receive sad news from our network. For restaurants, it's a disaster because everything is closed for a few weeks. For producers it's also dark times because they are in one boat with the restaurants. Until recently, the farmers markets continued to work, but then they were shut down as well.
To help our network, we launched digital campaigns asking customers to support local small producers and restaurants and buy directly from them. We asked all our members to promote this idea on their apps and websites.
We also try to support those who are especially vulnerable. Recently we submitted a project to bring healthy food to migrants' communities in Turin. They are very weak now.
At the moment, only big food companies are making money. Especially at the beginning of lockdown, when people went to big supermarkets to buy products with a long expiration date, because they didn't know how long it would continue. But local producers are struggling.
It's too early to talk about estimated losses and the future. It will depend on how long the lockdown lasts. I'm afraid that we won't recover by the end of the year.
We have to use this crisis to change the system so not only big chains get benefits but local and small food producers as well. Nowadays, we only care about the virus but our health depends on what we eat. I hope that people will start paying more attention to it as well as politicians who can support the movement.
Prepared with help from Irina Nazarova