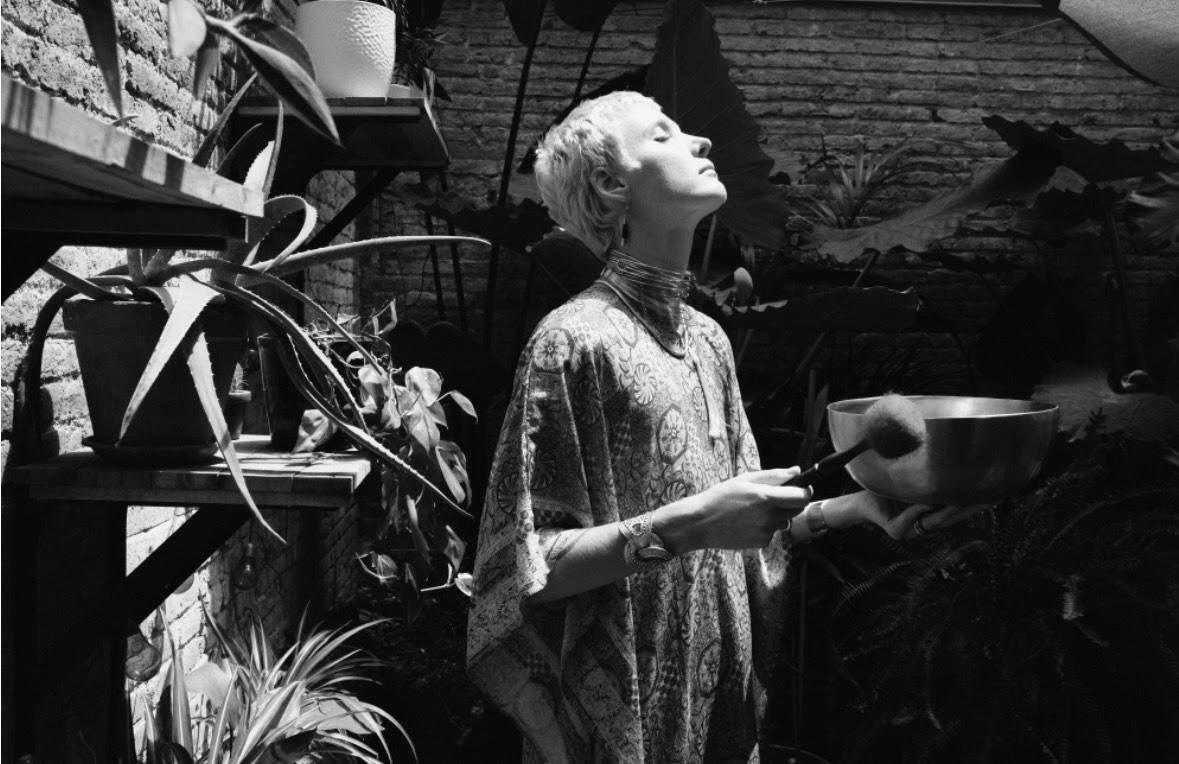 This Yoga Instructor Ditched the Corporate Ladder to Pursue Her Own Practice
Tatiana Rodina had been working in communications for tech companies for 13 years before taking a break and realizing her true passion. She now teaches yoga while living in Barcelona, Spain, with her two daughters. In this essay for Vivid Minds, Tatiana opens up about the moment that triggered her transition and how everyone can become more attuned to themselves.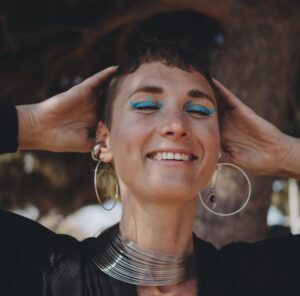 Tatiana von Varchmin (Rodina)
Healing Yoga Guide
I am at the playground, it's 5 pm, and I just picked up my daughters from school. They are happily playing and shout out to me, "Mommy, check this out!" as they want to show off their new fabulous moves. However, I barely notice anything around me. I am on a Zoom call with my international team as we are making some urgent decisions, and there's no time for play. I want to be present everywhere. I want to clone myself, but I'm failing. I am terribly stressed out. It feels like everything is falling apart.
That was me two years ago.
Now, there are no calls on my agenda. When I go to the playground with my kids, I am watching them happily play. I am present. I am calm. Feeling grounded is my new default state. How did I do that?
Busy business
I started my career in Communications at the age of 18 when Instagram didn't exist, and I had to code to make a Facebook page for GAP Ukraine.
Thirteen years later, I grew into the Head of Communications of a deep-tech startup. "That's the end of my career ladder," I thought, my ego feeling satisfied with my success. However, deep inside, I felt that something was missing. Despite loving my career, the feeling of emptiness, anxiety, and restlessness was growing inside of me. Then, all of a sudden, I got sick with COVID. After COVID, depression followed. I had to reevaluate my life. "Is this something I see myself doing in 10, 20, or 30 years from now?" I asked myself. But I already knew the answer. So, I made a difficult and scary decision to resign into nothingness.
Dunes changed my life
I never took proper work breaks before, never existed without having a project to think about for over 13 years. This time, though, I made a conscious decision to give myself as much time as needed to figure things out. I am a solo mother of two kids, so surrendering into such a plan was a challenging thing to do. I had some savings, so I knew that for 6 months or so, we'll be fine. But I had to stop working to understand myself deeper.
I went to the Canary Islands to visit a friend of mine, and she showed me the dunes. I was startled. I've been practicing yoga since 16 and got my first teacher training certificate in my mid-twenties. So when I went to the dunes, I had a strong urge to meditate. I sat down and could instantly fall into the state. I came back the next day and meditated again, did some yoga right on the sand, and it came to me: "I don't want any more comms projects. I want to concentrate on what is meaningful to me." It was yoga.
From strategies to asanas
I've been teaching yoga on the side for 7 years, but this time I was curious to see what happens if I do just that. I still had no idea how I was going to survive by being a yoga teacher, but I allowed my path to start shaping.
I chose to practice hardcore mindfulness, noticing every possible fear and digging deeper into it, understanding myself better. I focused on deep inner work, doing therapy, reading a lot, and actively changing my consciousness. Then something weird happened. I was giving a few private sessions per week, and in one of them, doing my usual vinyasa yoga shebang, I noticed that I could feel things, the pain points in the body, stored tension, even more than that, the energy of life itself moving under the skin, as I placed my hands on my clients' shoulders. I stopped and explored that feeling. After the session, the client told me that they felt a profound shift in the way they feel – the back pain was gone, and they felt regenerated. This is how I got into healing.
Healing myself, healing others
I've always been skeptical of healers. I have a fast strategic mind, where I don't do all those woo-woo things. But here I am – daily feeling where pain is stuck in people's bodies, all sorts of pain – physical or emotional. As months went by, I was gradually developing new skills and confidence in applying them. And I support them as they release it. It took me some time to start identifying myself differently. I used to be Head of Communications, but who am I now? Healer? Shaman? Yoga guide? This is how my own method Healing Yoga developed.
As I was getting deeper into my own healing after years of chronic anxiety and severe childhood traumas, I continued giving private sessions. I started intuitively combining yoga movements, breath, aromatherapy, sound healing, lots of touch and then the talking bits too.
As I was releasing myself from my own internal pain more and more, the stronger my intuition and my power were getting. Again, this is not how I ever pictured myself, but more and more people wanted to see me for private sessions to feel better. And, what's even more important, I was feeling great. I didn't have to be stressed anymore. I still don't have a stable money income, but I have a stable feeling of calm happiness, gratitude, and joy in life. It is priceless.
Tips for the readers
And then I got creative. I created Healing Raves, bringing techno and free movement together, took my healing sessions on tour around Europe, recorded a few Yoga Nidra meditations – a method of bringing awareness to body and mind – and launched my online Healing Yoga sessions.
Everything I create comes from a place of calm. The more I know myself, the more I allow myself, the stronger my healing powers get and the better people feel. It's incredible to notice that. When I think of myself doing this in twenty or thirty years from now, I feel excited because I know that there is no limit to the depth of self-knowledge and knowledge of others, and the creativity that comes with it.
Here are my recommendations to make you feel better:
Practice Yoga Nidra daily (it's easy – requires only 20 minutes of laying down, and it makes you feel great after just one session),

Exclude alcohol from your diet,

Consider therapy or other types of inner work to understand yourself and any unprocessed pains,

Find ways to take care of your body that bring you joy,

Eat less and rest more,

Be brave as you bring changes in your life and build a good support group,

Get out of your brain into your body more often.
P.S. Now, my kids have this routine of asking me how many sessions I have per day, and they play with my sound healing bowls while I make them lunch. I am booked out for weeks in advance. They also ask me to give them their own little "sessions" in the evenings after school. This is the life I could never even dream about, but I made it my reality.
Written by Tatiana von Varchmin (Rodina)
Cover photo by Natalia Rassvet
Prepared for Vivid Minds by