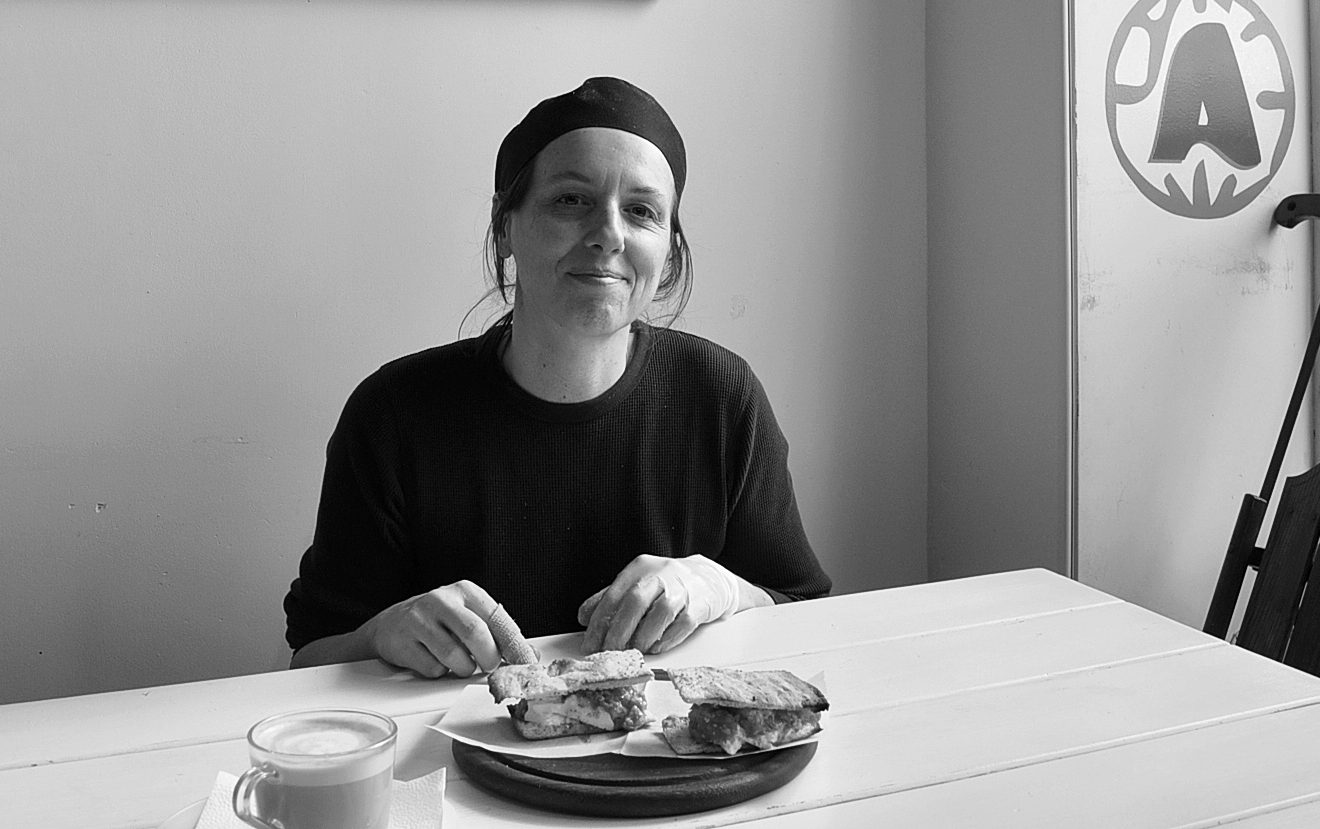 Gaia Bagnasacco
The Owner of Gaia Café
Transforming People's Way of Life Through Food
When Gaia Bagnasacco arrived in New York from Italy, she was shocked by the way Americans eat their meals: quickly, usually alone, and with no concern about the quality of the food. As she worked to find her place in a new country, she found peace in teaching New Yorkers the value of a community-centered cafe through her place in the Lower East Side of Manhattan, Gaia Italian Café. Part of Gaia's charm is her uncompromising rules; not all Americans get them. (Check out her reviews on Google—you'll find guests pointing out her rudeness. "She makes the Soup Nazi from Seinfield look like an angel," reads one.) Yet her place doesn't have a shortage of customers. Even Anthony Bourdain, the late, world-famous chef known for his adventurous palate, once stopped by; he took to Twitter to praise Gaia's lasagna as the best in America.
I believe that one can send a message through food. Food is your gasoline, it affects everything in you—your mood, your health, your wellbeing… It holds you together! Those ideas prompted me to open a small café in the Lower East Side of Manhattan called Gaia Italian Café, a place where New Yorkers can find fresh Mediterranean meals and, most importantly, love and respect.
It all started ten years ago, when I came to New York from Milan. Back then, I was a graphic designer, and I loved my job, but I always had a passion for cooking. Italy is a very conservative country, where women don't have a lot of power. Traditionally, men make all the decisions. Even inside my family, I felt weak and voiceless. I wanted to put myself in a situation where I had to be on my own, to understand who I am, which is difficult to do when you are surrounded by the very people you are trying to disentangle from. When you step out of your comfort zone and lose support, you can find yourself—your value, dignity, and strength. With Italy going through an economic crisis, I decided it was time to travel to New York as a life-spiritual journey.
When I arrived in the U.S., I realized that Americans have a very different way of approaching their meals. They eat processed food and don't care about how bad it is for their health. I decided to open a low-key café to offer dishes based on the Mediterranean diet—a well-balanced combination of different meats, vegetables, and cheeses—at a low price, made with high-quality products. I wanted people to experience how eating fresh food could change not only their health but also their connection to other people.
It wasn't easy to open the restaurant. It took a few months to just find a place. Banks didn't want to open a business credit line because I didn't have a credit history in the US. Finding reliable and not expensive suppliers in Italy who could deliver products to the USA was another challenge.
Also, men often look at businesswomen as if we're not serious. They think that cooking is a little hobby for good-looking girls, but running a café requires different skills. Cooking is the core, but you also have to think about accounting and taxes, manage vendors and inventory, hire and teach personnel, deal with customer reviews and complaints.
My ambition was much bigger than just opening another café in New York: I wanted to make meals that transform the way people feel. I wanted my place to be a community, where people can be less self-centered—something notoriously difficult for Americans in general, and for New Yorkers specifically.
To do that, I created a few rules when I opened Gaia. I can't allow people to make demands in my café because we have nine tables and only one chef, one person at the counter, and maybe a person in the back doing dishes. My employees often have learning disabilities, or they come from shelters or projects, or it's somebody who needs support. Before coming to the café for the first time, I ask people to check out the website with all the rules. But sometimes people behave the way they're used to acting in any café: order food, get it fast, eat it faster, and leave. I hate that. Without rules, you don't find yourself. The loneliness many people feel here in New York is because there are no rules.
What I see here in New York is that we are always focused on ourselves, which makes us demanding and impatient. We are so spoiled because we have everything available. When we come to the restaurant, we don't want to wait. We show aggression if we don't get what we ordered in a few minutes. Here at Gaia, we try to explain our ways to newcomers, and ask them to be respectful and patient. Our food is made fresh at the moment you place your order, so you have to wait a bit more than you're used to. If you come to Gaia Café with an open heart, you will be able to feel our love and care.
We were fully booked almost immediately. Soon after Gaia Café opened and we introduced our five-dollar fresh-made panini, the Wall Street Journal published a great review about us, and by the next morning we had a line outside. Anthony Bourdain also stopped by and praised my lasagna as the best in America. At that time, I had no idea who he was, but it was a huge push for us.
In 2015, The New Yorker magazine featured us in a "Tables for Two" review. It was unpredicted and flattering, but for a community café with a small team, where I'm cooking every single meatball, or gnocchi, or lasagna, it was madness! There is no way I can speed up the process to prevent long lines, unless I sacrifice the very homemade style of our food that made us beloved in the first place. Success, to me, is not to scale and repeat the process until I get rich, but to help people understand that we need to slow down our way of consumption.
I'm grateful to America, despite the contradictions, challenges, and cultural differences that have made me cry so many times. There have been many happy moments here, especially when people came to tell me how delicious my food is and how good they felt about it. A few days ago, a woman came to the counter and asked me, "Are you a healer? You are curing people through the food." I really feel that way.
PS:
There is a poem by Spanish poet Antonio Machado that helps me when I feel down (Gaia recited it in Spanish):
Walking makes the road,
and turning to look behind
you see the path that you
will never tread again.
Wanderer, there is no road,
only foam trails on the sea.
Prepared for Vivid Minds by journalist and The New School graduate Irina Nazarova